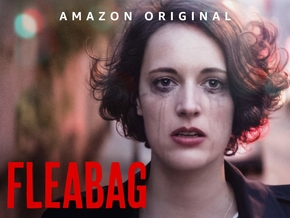 Overview
Fleabag is a TV series combining comedy and drama. Phoebe Waller-Bridge created and wrote the show – and you'll find her as the main character, too. The series led to Waller-Bridge receiving the British Academy Television Award for Best Female Comedy Performance for its first series. The second season received 11 Primetime Emmy Award nominations and won six. 
The show originated from Waller-Bridge's one-woman performance at the Edinburgh Festival Fringe in 2013. It won the Fringe First Award. The idea came about after a friend challenged her to create a 10-minute sketch during a stand-up storytelling night. 
Premise
The central character of this show is known only as Fleabag. She lives life in London with no filter and navigates the rollercoaster of everyday events and romance as she processes a tragedy.
As she tries to heal, she pushes away anyone who tries to help her. She does, however, keep up a bold face as she attempts to get through it all by herself.
Cast and characters
London-based woman (Fleabag) – Phoebe Waller-Bridge

Fleabag's sister, Claire – Sian Clifford

Fleabag's godmother – Olivia Colman

Fleabag's father – Bill Paterson

Claire's American husband, Martin – Brett Gelman

Fleabag's ex-boyfriend, Harry – Hugh Skinner

Fleabag's love interest (1) – Jamie Demetriou

Fleabag's best friend and business partner, who is deceased – Jenny Rainsford

A priest and Fleabag's love interest (2) – Andrew Scott

Fleabag's counselor – Fiona Shaw

Martin's teenage son – Angus Imrie

Fleabag's lawyer and love interest (3) – Ray Fearon
Filming locations
Fleabag was filmed in Dartmouth Park, which falls within the NW5 postcode of Camden – an area of London, England. Waller-Bridge herself lives in the district, which was chosen over possible alternatives Richmond and Barnet. 
While the inside of Fleabag's flat was filmed in the studio, the outside is located on Laurier Road, where the average house prices go into the millions.
There are many scenes where Fleabag is seen walking the streets at night, and these were filmed on Southampton Road, which is located in Gospel Oak. 
Trailer
The trailer for Fleabag's first season currently has over 800,000 views on YouTube. It opens with Fleabag providing a commentary as she lets a man into her flat. Then she's seen in a changing room with a friend, who accidentally insults her taste in clothes. A family dinner follows, where the man seen previously is complimented on his good looks.
Other scenes previewed in the trailer show Fleabag sneaking up on a man in the shower, brandishing a knife and wearing a disguise, Fleabag being pursued by a man she doesn't seem interested in and the same man making an awkward joke about their meeting at a party.
Production
Fleabag was originally broadcast by BBC Three. It showed repeats on BBC Two in 2016. The second series was on BBC One as it was released by BBC Three, online. Amazon Prime Video then picked up the show, where it was released in the US. It has been remade for French television and titled Mouche – which is French for fly (the insect).
Episodes and reception
There are two seasons of Fleabag. The first one has six episodes, as does the second. Harry Bradbeer directed all but the first episode, which was directed by Tim Kirkby. Phoebe Waller-Bridge is listed as the writer for all episodes. The first episode aired on 21 July 2016, and the final one was released on 8 April 2019.
At the date of writing, Fleabag has an IMDb rating of 8.7 out of 10. On TV.com, the rating is 7.4 out of 10 and it has a 100% rating on Rotten Tomatoes. 93% of Google users reported that they like the show.
Where to watch Fleabag
We've done our research and selected the best services for you to watch this show.

$12.99

a month
Choose from a monthly or annual subscription
Benefit from all the perks which come with Amazon Prime
Watch top Originals such as Bosch and Fleabag
Watch Now

Choose from thousands of TV shows and movies.
Get stuck in with no fixed contract now.