Overview
Dash & Lily is an upcoming TV show based on the young adult book series Dash & Lily's Book of Dares. The books were written by David Levithan and Rachel Cohn.
The TV series will consist of 8 episodes and launch on Netflix this November 10th.
If you're a fan of Love, Simon, Love, Victor or The Kissing Booth films you'll probably love Dash & Lily.
Premise
The series is a Christmas-time romance story with plenty of heart and charm.
Lily isn't having much luck in her love-life, as opposed to her brother. He gives her some advice, and so Lily leaves a red notebook on her favorite shelf of a bookstore. In the book, Lily has written a set of dares.
Meanwhile, Dash, more cynical than Lily, comes across the notebook. He decides to try out the dares.
Dash and Lily both then embark on a back and forth scavenger hunt across New York City, and start to fall in love with the version of each other found between the pages of the Book of Dares.
The riskiest thing the two will do is meet in real life, and see if their love will survive outside of the notebook.
Cast and characters
Austin Abrams – Dash

Midori Francis – Lily

Dante Brown – Boomer

Troy Iwata – Langston

Leah Kreitz – Aryn

James Saito – Arthur Mori

William Hill – Uncle Sal

Glenn McCeun – Edgar Thibaud

Ianne Fields Stewart – Roberta

Gideon Emery – Adam

Laila Drew – Alice

Keana Marie – Sofia

Diego Guevara – Benny

Patrick Vaill – Mark

Matty Evers – Young Dash

Brody Scharr – Young Edgar
Filming locations
While many TV shows and films are shot somewhere different to where they're set, Dash & Lily was actually entirely filmed in New York.
Luckily, the series wrapped in December – before the COVID-19 pandemic had a chance to cause any delays or disruption.
Production
Netflix ordered the series in October 2019, and the series began filming that month.
Lauren Moon, Joe Tracz, Carol Barbee, Harry Tarre and Rachel Cohn have each written episodes.
Tracz is also the showrunner, and executive produces along with Shawn Levy, Josh Barry, Nick Jonas, and Brad Silberling.
Levithan and Cohn are co-executive producing.
Fred Savage, Silberling and Pamela Romanowsky are among the directors for the series.
Episodes and reception
There are 8 episodes in the series:
Dash

Lily

Hannukah

Cinderella

Edgar and Sofia

Christmas Eve

Christmas

New Year's Eve
We don't yet know what each individual episode will be about.
As for the show's reception, as the series has yet to premiere, reviews aren't out yet. The book is very popular and well-rated, however, and even has two sequels. Plus, Netflix are releasing a tie-in edition of the novel in December of this year to accompany the series.
Reportedly, a second season of the series has already been confirmed – so we can assume Netflix have faith in the show and its quality. 
Let us do the hard work
We compare the best streaming services for you so you can watch your shows at the best possible rate.

$8.99

a month
Enjoy HD and UHD resolutions
Download titles to watch offline
Choose from three price plans
Watch Now
Netflix has been around for so long that it was in existence before streaming boxes and devices. For example, the original Roku was built with Netflix in its consideration, and as platforms have been released, Netflix has ensured a top quality app complements it. If you want to keep it simple, you can watch Netflix on your browser, but it's also handy for shows and movies on a range of smartphones, tablets, smart TVs and more.
If you want to read one of the most in-depth Netflix reviews on the market, you've come to the right place. Everyone watches TV series on Netflix, so we've drawn up a guide to the various plans, offered an introduction to the user interface and more. This Netflix streaming review will educate you on the best streaming services platform you love to use.
Pros and cons
Pros
No commercials. There's nothing worse than watching TV shows or a movie you love and having an advert interrupt you part way through. With Netflix, you pay the monthly subscription and get immediate access to the content library with all rights reserved.
Downloadable content. If you're going on a long journey or commute on public transport which doesn't have access to WiFi, it can be handy to have a collection of your favorite films or series you like downloaded onto your phone.
Various membership plans. Netflix understands that streaming isn't 'one size fits all', so you can go with basic, standard or premium. If you're on a modest budget, you will like the basic plan. If you have a family and want to give them all access, you can stream Netflix on four screens at once with the Premium plan.
Cons
Content library varies according to location. You may be excited to read a news article or new reviews revealing your favorite TV shows and movies are now available on Netflix, only to discover it's only accessible for subscribers living in a different part of the world.
Rotating content. Because licensing deals expire with Netflix, people run the risk of getting into TV shows and movies they love, then being disappointed to find that it's been removed from the content library.
Data cap. If you don't have unlimited data on your mobile phone or tablet while you're using Netflix, you won't like that the streaming service uses it all up rapidly.
Types of content available
You can view a vast library of content on Netflix. These are split into shows and movies. Our reviews cover a huge range of titles available with all rights reserved.
Everyone will like to watch TV series – to view the top series available on Netflix, navigate to the Series tab on the menu bar. There's a whole host of genres you can choose from: action & adventure, anime, British, classic & cult, comedies, crime, docuseries, drama, horror, international, K-drama, kid-friendly, LGBT, mysteries, reality, romance, sci-fi & fantasy, science & nature, Spanish-language, stand-up & chat shows, teen shows, thrillers and more. Alternatively, click on the shows tab to read our reviews of titles you will love.
You can view the best series on Netflix, or pick up where you left off with shows you're already in love with. Alternatively, you can look at what's trending now, or see which shows you like on My List to watch later. Additional sub-menus include award-winning TV programs, Netflix Originals, women who rule the screen, top picks for you and more. To get further guidance, read our reviews.
If you want to settle in for a night of movies, Netflix is a selection you will love. There's such a huge range of options, so you'll be spoilt for choice. Navigate to the Films tab on the menu bar, and pick a genre. Alternatively, enter a title or actor into the search bar if you're looking for something specific. Genres available for movies include: action, anime, comedies, crime, documentaries, family features, musicals, rom-coms, sci-fi and sports. Reviews of movies can prove particularly useful, and small descriptions are included on the site.
You can continue watching the best Netflix movies you haven't finished yet, see Netflix best series or what you've earmarked to view at a later date. Alternatively, more sub menus on your screen from this company could include crime dramas, hidden gems, romantic independent films and critically-acclaimed films.
Top Netflix TV shows and movies
Stranger Things
Set in a small Indiana town in 1983, this Netflix series begins with Joyce Byers' son, Will, going missing. A terrifying investigation is launched into his disappearance, and this leads to the discovery of secret government company experiments, supernatural creatures and an incredibly unusual girl.
Black Mirror
This unique TV show from Netflix features dramas which are completely stand-alone and discuss paranoia about technology and a collective unease about the world as it exists today.
The Crown
This popular royal drama chronicles the life of Queen Elizabeth II, starting from when she was a princess and moving through her journey to become the British monarch with husband Prince Philip at her side. The cast includes Claire Foy, Matt Smith, Olivia Colman and Tobias Menzies.
The Irishman
Set in the 1950s, this movie sees truck driver Frank Sheeran get involved in crime as a hitman with Russell Bufalino and his crime family based in Pennsylvania. He gets more and more entangled, going to work for the powerful Jimmy Hoffa.
Grace and Frankie
After spending a lot of time as rivals, Grace and Frankie have their worlds turned upside down when they find out their husbands are in love with each other. Instead of continuing to compete against one another, the two ladies learn to rely on each other instead.
Lucifer
Feeling bored in his role as the Lord of Hell, Lucifer goes against his father (God) by giving up his throne and going to Los Angeles. While there, he runs a nightclub called Lux and gets tangled up in a murder case with Detective Chloe Decker.
Making A Murderer
Steven Avery spent nearly two decades in prison for a crime he didn't commit, and filed suit against Manitowoc County, along with several people who were involved in his arrest. However, he found himself behind bars again shortly after, accused of another murder. Columbia graduate students read Avery's story and took it on as a documentary.
Orange Is The New Black
Piper Chapman's past suddenly comes back to haunt her in this Netflix series when she is sentenced to time in a women's prison in Connecticut for associating with a drug runner 10 years previously.
Jessica Jones
This series explores the life of Jessica Jones, one of the darker characters from the Marvel franchise.
The Ranch
Colt, played by Ashton Kutcher, goes home to his family's ranch in Colorado after the failure of his football career. His plans to run the family company alongside his father prove more difficult than expected, and he also finds himself torn between two women.
Mindhunter
FBI agents Holden Ford and Bill Tench work to understand serial killers by understanding what goes on in their heads. The two agents are at the top of their game by developing the profiling of modern serial killers.
XOXO
Six strangers experience their lives colliding together during a night featuring romance and chasing dreams when a young DJ is presented with the opportunity to perform at a festival.
The Fundamentals of Caregiving
After experiencing a personal tragedy, a writer retires and becomes a caregiver for a disabled teenager. When they go on a road trip, their coping abilities are put to the test.
TAU
A woman is trapped inside a hacker's house and subjected to his experiments. She tries to hack the computer program running the house in order to escape.
Bird Box
A mysterious force is wiping out the population, and the only thing people know is that if you see it, you die. Survivors have to avoid facing this force, which takes the shape of their worst fears.
Mowgli: Legend of the Jungle
A human child is raised by wolves in the Indian jungle. He learns the rules of the jungle from a bear named Baloo and a panther called Bagheera. But he soon stumbles across his human origins, plus a formidable enemy.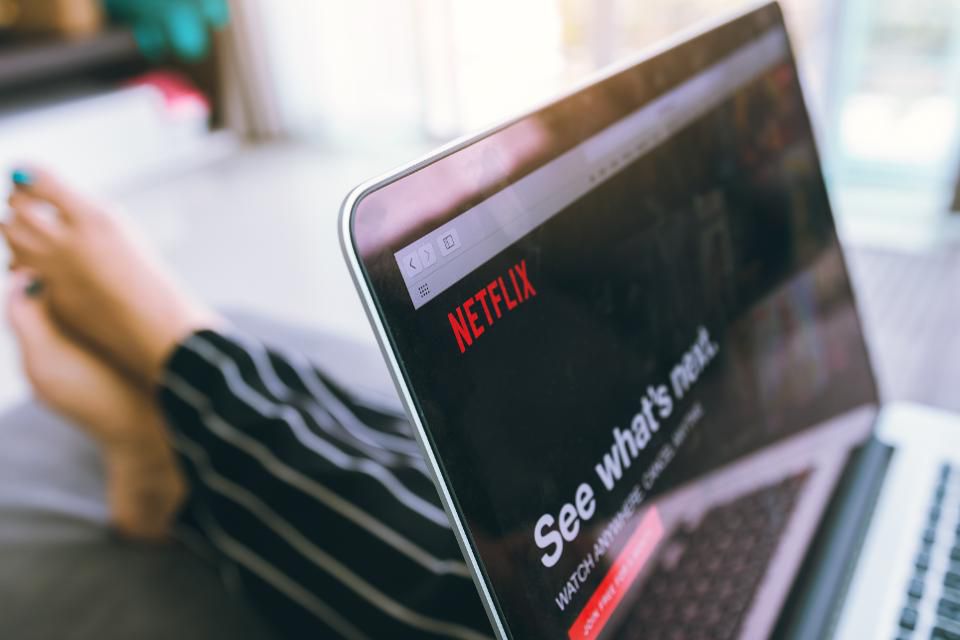 User Interface
When you first load up Netflix, you will be asked which profile you want to use. This is where you will have access to multiple screens if you are on the premium plan.
Once you are through to the main Netflix page, you will have a bar at the top next to the Netflix logo where you can navigate to series, films, recently added titles or your list. The My List feature allows you to bookmark content for future viewing.
When you click through to the series and movies pages, there will be a drop down menu at the top where you can choose the genre you want a selection to come from. There are also rows of titles on offer, based on sub sections such as your list, a Continue Watching bar, recommendations based on recent movies you've watched, trending titles and more.
When you click on an individual title, you will be able to see a whole host of reviews and information. Below the title will be a percentage match based on how well it fits in with your viewing habits, so you'll know if you're likely to enjoy it. There is also the release date, the motion picture content rating, a short summary of the title, a fact about it, the genres it fits into, the main cast and a thumbs up or down icon. You can also add it to your list, or simply press play.
How to watch
People watch Netflix on a range of devices. You may find you wish to use this company streaming service on your tablet or smart TV, in which case there will most likely be the option to download the Netflix app. If your TV doesn't have the app, you can purchase a streaming device to act as the middleman. Check out the best company reviews to make your choice. Alternatively, you can simply use your laptop or desktop, or even find your video game console handy.
The best streaming devices compatible with Netflix include Android TV, Nvidia Shield, Roku, Chromecast, Apple TV and Fire TV. Netflix can be browsed using the video game consoles PlayStation 3, PlayStation 4, Xbox 360, Xbox One, PS Vita, Nintendo Wii U and Nintendo 3DS.
Compatible mobile devices include Android, iOS – that is, iPhones and iPads – and Windows phones. Finally, if you want to use a smart TV or Blu-Ray player, virtually every brand is compatible, including Sony, Sharp, LG and Samsung. If you want to double check before buying a device, check out the Netflix site for information and reviews.
To stream Netflix service titles on your chosen device, you will need an internet connection with at least 0.5 megabits per second. The recommended speed is 1.5 megabits, and if you want SD quality you will need 3.0 megabits. If you want to make the most of HD quality streams with the premium plan, 5.0 megabits per second will be the most effective, while 25 megabits is what you'll need to achieve ultra HD quality.
If you upgrade your plan to premium and want to watch your favorite shows and movies in HD, you will need to change your video quality to either auto or high. Once this setting is activated, movies and TV will play in HD with connections of 5.0 megabits per second or more.
Be aware that higher quality streams will use more bandwidth, so if you don't have access to unlimited data as part of your broadband setup, it's recommended that you manage your bandwidth usage by setting the video quality to low or medium. This way, you won't use up data as quickly.

Unlimited movies, TV shows, and more.
Watch anywhere. Cancel anytime.