Overview
This baking show is massively popular in the UK, where it's known as The Great British Bake Off. It originally aired on BBC Two, but eventually moved over to Channel 4 – changing many of the presenters in the process.
In the US, The Great British Baking Show aired on PBS and now streams on Netflix.
Each season features a different set of contestants competing in a variety of baking challenges – some known to the contestants ahead of time, and some not. The judges make decisions on who is the 'star baker' of the week and who is going home.
Unlike other cooking competitions, The Great British Baking Show doesn't emphasize competitiveness or deliberately dial up the intensity. Instead, the series takes a more gentle and compassionate tone, with the contestants shown getting on and growing close across each season, and regularly chatting to and joking with the presenters and judges.
This makes for a charming, delightful treat of a show – perfect as soothing comfort viewing for the winter months.
If you're a fan of Sugar Rush or The Chef Show, you'll probably love The Great British Baking Show.
Premise
Contestants – usually between 10 and 13 of them – all compete in a large marquee style tent in a picturesque garden to be crowned the winner of The Great British Baking Show.
Each week they're given 3 challenges to complete: a signature bake, a technical challenge and a showstopper.
A signature bake gives the bakers a chance to show off their skills with a well-known recipe, and all the baked goods are taste tested by the judges after cooking.
The technical challenge is where the competition starts to heat up. The bakers are challenged to cook the same recipe, and must create a set number of perfect, identical goodies. The bakers don't get to know this challenge in advance, so it's a true test of their aptitude.
The showstopper calls for a creation as visually stunning as it is tasty. The bakers really get to show off their talent, and often go for whacky bakes with unusual flavors. For example, a previous showstopper challenge called for cakes made to look like a celebrity – with hilarious results.
Each week, a star baker is chosen as the baker who performed the best across the three challenges that week – and another baker is chosen to go home.
If a baker really impresses, they might be treated to the famous handshake, where judge Paul Hollywood shakes their hand.
Cast and characters
The line-up of judges and presenters changed when the series made the jump from BBC Two to Channel 4 – which is also when PBS stopped airing the show and Netflix took over.
Originally, the judges were Paul Hollywood and Mary Berry, with Mel Giedroyc and Sue Perkins presenting.
On Channel 4, Mary Berry departed the show and was replaced with Prue Leith. The new presenters were Noel Fielding and Sandi Toksvig. In the most recent instalment, Tosvig left the series and Matt Lucas joined as the second presenter.
In the US, series 5 of the British broadcast was aired on PBS as season 1, series 4 as season 2, series 6 as season 3, series 7 as season 4, and series 3 as season 5.
Netflix then streamed series 8 of the show as Collection 5, as well as the PBS seasons. They also feature series 3 as The Great British Baking Show: The Beginnings.
The most recent series, series 11, currently streams on Netflix – with new episodes arriving just 3 days after they air in the UK.
As for the contestants, these have been:
Season 1/Collection 1:
Chetna Makan

Claire Goodwin

Diana Beard

Enwezor Nzegwu

Iain Watters

Jordan Cox

Kate Henry

Luis Troyano

Martha Collison

Nancy Birtwhistle

Norman Calder

Richard Burr
Season 2/Collection 2:
Ali Imdad

Beca Lyne-Pirkis

Christine Wallace

Deborah Manger

Frances Quinn

Glenn Cosby

Howard Middleton

Kimberley Wilson

Lucy Bellamy

Mark Onley

Robert Smart

Ruby Tandoh

Toby Waterworth
Season 3/Collection 3:
Alvin Magallanes

Dorret Conway

Flora Shedden

Ian Cumming

Marie Campbell

Mat Riley

Nadiya Hussain

Paul Jagger

Sandy Docherty

Stu Henshall

Tamal Ray

Ugnė Bubnaityte
Season 4/Collection 4:
Andrew Smyth

Benjamina Ebuehi

Candice Brown

Jane Beedle

Kate Barmby

Lee Banfield

Louise Williams

Michael Georgiou

Rav Bansal

Selasi Gbormittah

Tom Gilliford

Valerie Stones
Season 5/The Great British Baking Show: The Beginnings:
Brendan Lynch

Cathryn Dresser

Danny Bryden

James Morton

John Whaite

Manisha Parmar

Natasha Stringer

Peter Maloney

Ryan Chong

Sarah-Jane Willis

Stuart Marston-Smith

Victoria Chester
Collection 5:
Chris Geiger

Flo Atkins

James Hillery

Julia Chernogorova

Kate Lyon

Liam Charles

Peter Abatan

Sophie Faldo

Stacey Hart

Steven Carter-Bailey

Tom Hetherington

Chuen-Yan Tsou
Collection 6:
Antony Amourdoux

Briony Williams

Dan Beasley-Harling

Imelda McCarron

Jon Jenkins

Karen Wright

Kim-Joy Hewlett

Luke Thompson

Manon Lagrève

Rahul Mandal

Ruby Bhogal

Terry Hartill
Collection 7:
Alice Fevronia

Amelia Le Bruin

Dan Chambers

David Atherton

Helena Garcia

Henry Bird

Jamie Finn

Michael Chakraverty

Michelle Evans-Fecci

Phil Thorne

Priya O'Shea

Rosie Brandreth-Poynter

Steph Blackwell
Collection 8:
Dave Friday

Hermine

Laura Adlington

Linda Rayfield

Loriea Campbell-Clarey

Lottie Bedlow

Makbul Patel

Marc Elliott

Mark Lutton

Peter Sawkins

Rowan Williams

Sura Selvarajah
Filming locations
Season 2 and 5 were filmed in Harptree Court, Somerset, England.
The Great British Baking Show has been filmed in Berkshire in England since 2014. The iconic tent was pitched in Welford Park, Newbury.
In 2020, the location switched to Down Hall Hotel in Bishop's Stortford, which is on the border between Hertfordshire and Essex, England.
The location change was necessitated by the COVID-19 pandemic, to ensure that everyone involved in the show – including members of the hotel staff, producers, and even dog-walkers – could quarantine together.
Production
Contestants who apply for the show must be a resident of the UK and can't have ever worked as a cook, chef or baker, or have achieved any qualification in cooking, catering, food preparation, food production or baking in the last 10 years.
According to one baker, the application is lengthy and is followed by a phone interview, then successful applicants go on to meet casting executives and producers with two bakes for them to try. The next stage is a filmed technical challenge.
Filming can take over 12 hours each day. Nothing is staged, but according to one baker if the cameras don't film something the bakers might be asked to redo it or repeat what was said – and retakes during judging can happen. The baker also explains that no bakes can be put into the oven or taken out without someone there to film it.
Bakes are illustrated to give us an idea of what they should look like before we get to see the finished product – and Tom Hovey is the illustrator.
One of the most infamous incidents in the show occurred when Iain Watters threw the melted ice cream intended for his Baked Alaska into the trash and left the tent, which led to him being disqualified.
Recently, Sura Selvarjah knocked 4 of David Friday's cakes onto the floor by mistake, just as they were being prepped for judging. Luckily, there were still 2 cakes left over to judge.
Episodes and reception
The Great British Baking Show has run for 11 seasons in the UK. It's very well reviewed, although some commentators noted changes between the BBC and Channel 4 editions of the program.
Many love the light-hearted nature of the show and its escapism, especially during the pandemic.
Let us do the hard work
We compare the best streaming services for you so you can watch your shows at the best possible rate.

$8.99

a month
Enjoy HD and UHD resolutions
Download titles to watch offline
Choose from three price plans
Watch Now
Netflix has been around for so long that it was in existence before streaming boxes and devices. For example, the original Roku was built with Netflix in its consideration, and as platforms have been released, Netflix has ensured a top quality app complements it. If you want to keep it simple, you can watch Netflix on your browser, but it's also handy for shows and movies on a range of smartphones, tablets, smart TVs and more.
If you want to read one of the most in-depth Netflix reviews on the market, you've come to the right place. Everyone watches TV series on Netflix, so we've drawn up a guide to the various plans, offered an introduction to the user interface and more. This Netflix streaming review will educate you on the best streaming services platform you love to use.
Pros and cons
Pros
No commercials. There's nothing worse than watching TV shows or a movie you love and having an advert interrupt you part way through. With Netflix, you pay the monthly subscription and get immediate access to the content library with all rights reserved.
Downloadable content. If you're going on a long journey or commute on public transport which doesn't have access to WiFi, it can be handy to have a collection of your favorite films or series you like downloaded onto your phone.
Various membership plans. Netflix understands that streaming isn't 'one size fits all', so you can go with basic, standard or premium. If you're on a modest budget, you will like the basic plan. If you have a family and want to give them all access, you can stream Netflix on four screens at once with the Premium plan.
Cons
Content library varies according to location. You may be excited to read a news article or new reviews revealing your favorite TV shows and movies are now available on Netflix, only to discover it's only accessible for subscribers living in a different part of the world.
Rotating content. Because licensing deals expire with Netflix, people run the risk of getting into TV shows and movies they love, then being disappointed to find that it's been removed from the content library.
Data cap. If you don't have unlimited data on your mobile phone or tablet while you're using Netflix, you won't like that the streaming service uses it all up rapidly.
Types of content available
You can view a vast library of content on Netflix. These are split into shows and movies. Our reviews cover a huge range of titles available with all rights reserved.
Everyone will like to watch TV series – to view the top series available on Netflix, navigate to the Series tab on the menu bar. There's a whole host of genres you can choose from: action & adventure, anime, British, classic & cult, comedies, crime, docuseries, drama, horror, international, K-drama, kid-friendly, LGBT, mysteries, reality, romance, sci-fi & fantasy, science & nature, Spanish-language, stand-up & chat shows, teen shows, thrillers and more. Alternatively, click on the shows tab to read our reviews of titles you will love.
You can view the best series on Netflix, or pick up where you left off with shows you're already in love with. Alternatively, you can look at what's trending now, or see which shows you like on My List to watch later. Additional sub-menus include award-winning TV programs, Netflix Originals, women who rule the screen, top picks for you and more. To get further guidance, read our reviews.
If you want to settle in for a night of movies, Netflix is a selection you will love. There's such a huge range of options, so you'll be spoilt for choice. Navigate to the Films tab on the menu bar, and pick a genre. Alternatively, enter a title or actor into the search bar if you're looking for something specific. Genres available for movies include: action, anime, comedies, crime, documentaries, family features, musicals, rom-coms, sci-fi and sports. Reviews of movies can prove particularly useful, and small descriptions are included on the site.
You can continue watching the best Netflix movies you haven't finished yet, see Netflix best series or what you've earmarked to view at a later date. Alternatively, more sub menus on your screen from this company could include crime dramas, hidden gems, romantic independent films and critically-acclaimed films.
Top Netflix TV shows and movies
Stranger Things
Set in a small Indiana town in 1983, this Netflix series begins with Joyce Byers' son, Will, going missing. A terrifying investigation is launched into his disappearance, and this leads to the discovery of secret government company experiments, supernatural creatures and an incredibly unusual girl.
Black Mirror
This unique TV show from Netflix features dramas which are completely stand-alone and discuss paranoia about technology and a collective unease about the world as it exists today.
The Crown
This popular royal drama chronicles the life of Queen Elizabeth II, starting from when she was a princess and moving through her journey to become the British monarch with husband Prince Philip at her side. The cast includes Claire Foy, Matt Smith, Olivia Colman and Tobias Menzies.
The Irishman
Set in the 1950s, this movie sees truck driver Frank Sheeran get involved in crime as a hitman with Russell Bufalino and his crime family based in Pennsylvania. He gets more and more entangled, going to work for the powerful Jimmy Hoffa.
Grace and Frankie
After spending a lot of time as rivals, Grace and Frankie have their worlds turned upside down when they find out their husbands are in love with each other. Instead of continuing to compete against one another, the two ladies learn to rely on each other instead.
Lucifer
Feeling bored in his role as the Lord of Hell, Lucifer goes against his father (God) by giving up his throne and going to Los Angeles. While there, he runs a nightclub called Lux and gets tangled up in a murder case with Detective Chloe Decker.
Making A Murderer
Steven Avery spent nearly two decades in prison for a crime he didn't commit, and filed suit against Manitowoc County, along with several people who were involved in his arrest. However, he found himself behind bars again shortly after, accused of another murder. Columbia graduate students read Avery's story and took it on as a documentary.
Orange Is The New Black
Piper Chapman's past suddenly comes back to haunt her in this Netflix series when she is sentenced to time in a women's prison in Connecticut for associating with a drug runner 10 years previously.
Jessica Jones
This series explores the life of Jessica Jones, one of the darker characters from the Marvel franchise.
The Ranch
Colt, played by Ashton Kutcher, goes home to his family's ranch in Colorado after the failure of his football career. His plans to run the family company alongside his father prove more difficult than expected, and he also finds himself torn between two women.
Mindhunter
FBI agents Holden Ford and Bill Tench work to understand serial killers by understanding what goes on in their heads. The two agents are at the top of their game by developing the profiling of modern serial killers.
XOXO
Six strangers experience their lives colliding together during a night featuring romance and chasing dreams when a young DJ is presented with the opportunity to perform at a festival.
The Fundamentals of Caregiving
After experiencing a personal tragedy, a writer retires and becomes a caregiver for a disabled teenager. When they go on a road trip, their coping abilities are put to the test.
TAU
A woman is trapped inside a hacker's house and subjected to his experiments. She tries to hack the computer program running the house in order to escape.
Bird Box
A mysterious force is wiping out the population, and the only thing people know is that if you see it, you die. Survivors have to avoid facing this force, which takes the shape of their worst fears.
Mowgli: Legend of the Jungle
A human child is raised by wolves in the Indian jungle. He learns the rules of the jungle from a bear named Baloo and a panther called Bagheera. But he soon stumbles across his human origins, plus a formidable enemy.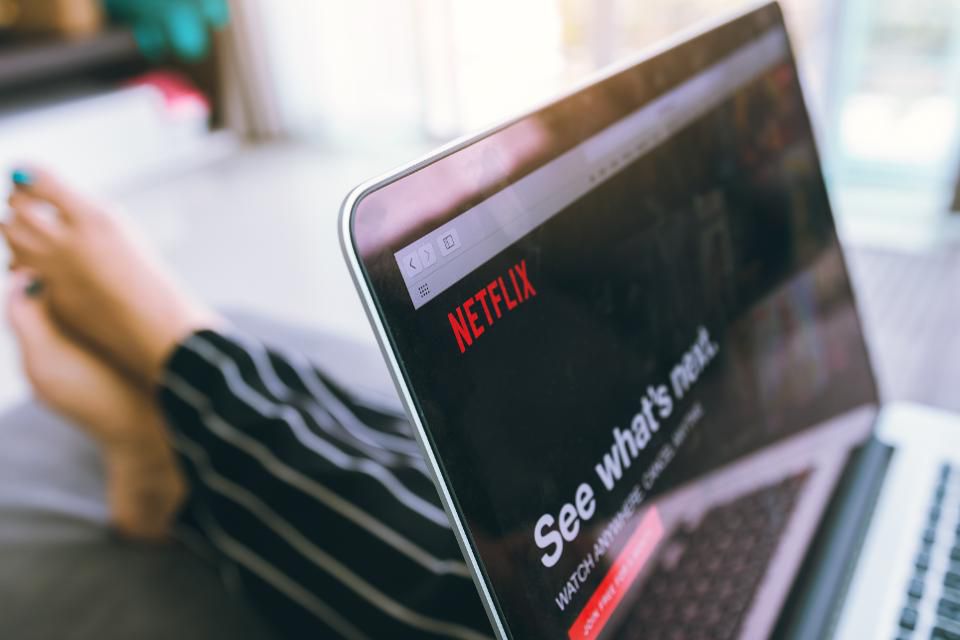 User Interface
When you first load up Netflix, you will be asked which profile you want to use. This is where you will have access to multiple screens if you are on the premium plan.
Once you are through to the main Netflix page, you will have a bar at the top next to the Netflix logo where you can navigate to series, films, recently added titles or your list. The My List feature allows you to bookmark content for future viewing.
When you click through to the series and movies pages, there will be a drop down menu at the top where you can choose the genre you want a selection to come from. There are also rows of titles on offer, based on sub sections such as your list, a Continue Watching bar, recommendations based on recent movies you've watched, trending titles and more.
When you click on an individual title, you will be able to see a whole host of reviews and information. Below the title will be a percentage match based on how well it fits in with your viewing habits, so you'll know if you're likely to enjoy it. There is also the release date, the motion picture content rating, a short summary of the title, a fact about it, the genres it fits into, the main cast and a thumbs up or down icon. You can also add it to your list, or simply press play.
How to watch
People watch Netflix on a range of devices. You may find you wish to use this company streaming service on your tablet or smart TV, in which case there will most likely be the option to download the Netflix app. If your TV doesn't have the app, you can purchase a streaming device to act as the middleman. Check out the best company reviews to make your choice. Alternatively, you can simply use your laptop or desktop, or even find your video game console handy.
The best streaming devices compatible with Netflix include Android TV, Nvidia Shield, Roku, Chromecast, Apple TV and Fire TV. Netflix can be browsed using the video game consoles PlayStation 3, PlayStation 4, Xbox 360, Xbox One, PS Vita, Nintendo Wii U and Nintendo 3DS.
Compatible mobile devices include Android, iOS – that is, iPhones and iPads – and Windows phones. Finally, if you want to use a smart TV or Blu-Ray player, virtually every brand is compatible, including Sony, Sharp, LG and Samsung. If you want to double check before buying a device, check out the Netflix site for information and reviews.
To stream Netflix service titles on your chosen device, you will need an internet connection with at least 0.5 megabits per second. The recommended speed is 1.5 megabits, and if you want SD quality you will need 3.0 megabits. If you want to make the most of HD quality streams with the premium plan, 5.0 megabits per second will be the most effective, while 25 megabits is what you'll need to achieve ultra HD quality.
If you upgrade your plan to premium and want to watch your favorite shows and movies in HD, you will need to change your video quality to either auto or high. Once this setting is activated, movies and TV will play in HD with connections of 5.0 megabits per second or more.
Be aware that higher quality streams will use more bandwidth, so if you don't have access to unlimited data as part of your broadband setup, it's recommended that you manage your bandwidth usage by setting the video quality to low or medium. This way, you won't use up data as quickly.

Unlimited movies, TV shows, and more.
Watch anywhere. Cancel anytime.