Grace and Frankie reviews
Overview
Grace and Frankie is a US comedy series which stars Jane Fonda and Lily Tomlin. Created by Marta Kauffman and Howard J Morris, the Netflix show tells the tale of two women who are brought together when their husbands announce they are gay and in love with each other.
There has been a new season each year between 2015 and 2020, and there will be Grace and Frankie season seven too. This makes the show the longest-running Netflix original season series, as once all episodes are out, there will be 94 in total.
Premise
The two main characters in the seasons cast could not be more different. Grace is a retired cosmetics businesswoman who launched her own successful empire, and Frankie is a hippie art teacher. Their husbands are Robert and Sol respectively, and the two men are successful divorce lawyers based in San Diego.
Grace and Frankie, aka Fonda and Tomlin, thought their retirement years were all planned out, but their worlds come crashing down around them in season one when Robert and Sol announce during a group dinner that they are in love with each other and filing for divorce. The two women live with each other in their jointly owned beach house throughout season one, despite not particularly liking each other, and the news is they learn to become friends as they navigate the obstacles which may come with becoming single in their 70s.
Grace and Frankie cast
Grace Skolka (ex Hanson) – Jane Fonda
Frances 'Frankie' Bergstein – Lily Tomlin
Sol Bergstein – Sam Waterston
Robert Hanson – Martin Sheen
Mallory Hanson.- Brooklyn Decker
Coyote Bergstein – Ethan Embry
Brianna Hanson – June Diane Raphael
Nwabudike 'Bud' Bergstein – Baron Vaughn
Barry – Peter Cambor
Guy – Craig T Nelson
Jacob – Ernie Hudson
Mitch – Geoff Stults
Peter – Tim Bagley
Adam – Michael Charles Roman
Erica – Brittany Ishibashi
Babe – Estelle Parsons
Phil Milstein – Sam Elliott
Arlene – Marsha Mason
Joan-Margaret – Millicent Martin
Allison Giampietro-Smikowitz – Lindsey Kraft
Nick Skolka – Peter Gallagher
Paul – Jack Plotnick
Nadia – Megan Ferguson
Oliver – Scott Evans
Jo – Stacey Farber
Roy – Mark Deklin
Sheree – Lisa Kudrow
Jack.- Michael McKean
Filming locations
The Grace and Frankie seasons are reportedly entirely filmed in Los Angeles, California. Its main location is said by some to be La Jolla, which is in San Diego. The beach house episodes, where Grace and Frankie end up living together, is filmed from the interior in Paramount Studios, which is located on 5555 Melrose Avenue, Hollywood, LA. The exterior is located on Broad Beach Road in Malibu. According to The Cinemaholic, the beach house sold for $15.725 million in 2006.
Episode summaries
Season One
Episode One – The End
The season begins with Grace Hanson and Frankie Bergstein go out to dinner with their husbands, Robert and Sol. The two women believe their husbands may announce they're retiring. Instead, their worlds are turned upside down when the two men announce they're leaving their wives as they are in love with each other. The two also reveal they have been having an affair for more than 20 years. Their children are horrified, and Grace and Frankie escape to the beach house where they eventually begin to bond over the news.
Episode Two – The Credit Cards
Grace and Frankie begin to get used to their new lives living with each other, but the discovery that Robert and Sol have cut off their credit cards makes them incredibly angry. Frankie thinks about moving back home, as Sol is now living with Robert, but eventually decides to remain with Grace at the beach house so they can offer each other support.
Episode Three – The Dinner
Robert and Sol get to host a dinner party for their children, who are uncomfortable about keeping the event a secret from their mothers. At the beach house, Grace and Frankie decide a distraction is needed and go back to work. However, Grace's daughter Brianna won't let her return to the company, and Frankie struggles with an art teacher application due to crossed wires.
Episode Four – The Funeral
Robert and Sol's law partner passes away, and they, along with Grace and Frankie, attend the funeral. The event is the first where Robert and Sol are out together as a couple, and Frankie is upset when Grace ditches her in favour of Robert's sister Lydia. Later, she may have heard Grace say that she is 'stuck with her'.
Episode Five – The Fall
Brianna comes over to get Grace set up with an online dating profile in this season episode. Instead, she ends up getting high with Frankie. They convince Grace to take them for frozen yogurt. Grace falls and breaks her hip, which leads to a hospital drama resulting in Grace realising how important Frankie is to her.
Episode Six – The Earthquake
A small earthquake triggers Frankie's seismophobia, and with Grace unsympathetic, Sol drops everything to be there for his ex wife. It becomes clear there may still be some residual feelings between them. Meanwhile, Grace goes on an online date, but one of Frankie's art students takes an interest in her instead.
Episode Seven – The Spelling Bee
Frankie gets excited to watch the national spelling bee, as does Sol, but the activity they would once do together is now met by Grace and Robert expressing a complete lack of interest. Grace is saved from a terrible date by Guy, who is looking to settle down. Brianna gets a dog to distract her from her dating life.
Episode Eight – The Sex
Grace worries about being intimate with Guy after years of not sleeping with Robert. Frankie steps in to help by offering her homemade organic lube. Meanwhile, Frankie realises that her friend Jacob may be flirting with her.
Episode Nine – The Invitation
Frankie is offended and hurt when Grace receives an invitation to Sol and Robert's wedding, but she doesn't. The event makes her realise that she may need to set boundaries with Sol. Grace and Guy are on a date golfing and Robert sees them, deciding to gatecrash the afternoon. Brianna realises the potential of Frankie's homemade lube.
Episode Ten – The Elevator
Frankie, Grace, Sol, Robert and Bud are in a lift when it becomes stuck. They have just signed divorce papers and look back on a weekend at the beach house five years earlier. It involved Sol and Robert trying to tell Grace and Frankie about their affair, but being interrupted by their kids arriving. Mallory gives birth, Coyote is at the height of his drug addiction and Grace decides Brianna should take over her business, making the decision to retire – which leaves Robert feeling he has to postpone telling her about Sol.
Episode Eleven – The Secrets
Grace comes face to face with Frankie's art student again, who she kissed during the earthquake. She tells Frankie, but then Frankie tells Sol, Sol tells Robert and Guy finds out. Meanwhile, Sol is furious when he finds out Robert slept with another man a decade ago when they had stopped seeing each other.
Episode Twelve – The Bachelor Party
Coyote and Bud persuade Brianna and Mallory to help with setting up a bachelor party for Robert and Sol. The event soon becomes wilder than Robert's conservative old boss would appreciate. Meanwhile, Grace and Frankie go out on the town for a 'yes night'.
Episode Thirteen – The Vows
In the week before Robert and Sol's wedding, Robert is struggling with his vows. Meanwhile, Frankie and Sol clear out their old house and end up sleeping together. Grace is furious with Sol when she finds out and orders him to tell Robert. Frankie finally realises that her marriage is over.
Production
Netflix finalised the deal for Grace and Frankie seasons episodes in March 2014, when a straight to series order comprising 13 episodes was made. Jane Fonda and Lily Tomlin were set to play the lead roles in the season. The executive producers on the series episodes were Marta Kauffman, Howard J Morris, Fonda, Tomlin, Paula Weinstein and Tate Taylor. Additional EPs were Dana Goldberg, David Ellison and Marcy Ross from Skydance Productions.
FAQ
Is Lisa Kudrow on Grace and Frankie?
Lisa Kudrow plays Sheree in the Grace Frankie classic during season four. She is a guest character in the Netflix show whose first episode is The Lodger, and the last is The Tappys. The news is, she has been Grace's manicurist for a long time, and her new friendship with Grace begins to put a strain on Grace and Frankie's relationship.
How old is Grace and Frankie?
At the beginning of the Grace and Frankie show, Jane Fonda (Grace) was 78, Lily Tomlin (Frankie) was 76, Sam Waterson (Sol) was 75 and Martin Sheen (Robert) was 75.
Is there a season 6 of Grace and Frankie?
Season 6 of the Grace and Frankie series premiered on Netflix on January 15, 2020. In August 2019, it was announced that the series would end with season 7. Season 6 sees Grace married.
Is Grace and Frankie any good?
The show is the oldest Netflix original series on the platform, so the fact it has been renewed so often means people keep on tuning in to the Netflix series. Fans of Tomlin and Fonda in particular may like watching them in this show.
Is Grace and Frankie funny?
The show has plenty of funny moments as the Grace Frankie cast duo adjust to living together. Frankie in particular has many eccentric habits which are displayed in an amusing way.
How does Grace and Frankie end?
It will be unclear how the Grace and Frankie series ends until season seven has aired on Netflix. However, key news across season one and season 6 include Sol and Robert's wedding and Grace emerging as a newly married woman.
Are Grace and Frankie in love?
The pair sustain a friendship that will get stronger with each new season. There is a moment when Grace is confirmed as bisexual, where in episode two of season five Grace asks Frankie if she wants to have sex with her. The pair do flirt in this seasons episode, and Grace reveals she made out with girls before marrying Robert, but they do not hook up in the end.
Let us do the hard work
We compare the best streaming services for you so you can watch your shows at the best possible rate.

$8.99

a month
Enjoy HD and UHD resolutions
Download titles to watch offline
Choose from three price plans
Watch Now
Netflix has been around for so long that it was in existence before streaming boxes and devices. For example, the original Roku was built with Netflix in its consideration, and as platforms have been released, Netflix has ensured a top quality app complements it. If you want to keep it simple, you can watch Netflix on your browser, but it's also handy for shows and movies on a range of smartphones, tablets, smart TVs and more.
If you want to read one of the most in-depth Netflix reviews on the market, you've come to the right place. Everyone watches TV series on Netflix, so we've drawn up a guide to the various plans, offered an introduction to the user interface and more. This Netflix streaming review will educate you on the best streaming services platform you love to use.
Pros and cons
Pros
No commercials. There's nothing worse than watching TV shows or a movie you love and having an advert interrupt you part way through. With Netflix, you pay the monthly subscription and get immediate access to the content library with all rights reserved.
Downloadable content. If you're going on a long journey or commute on public transport which doesn't have access to WiFi, it can be handy to have a collection of your favorite films or series you like downloaded onto your phone.
Various membership plans. Netflix understands that streaming isn't 'one size fits all', so you can go with basic, standard or premium. If you're on a modest budget, you will like the basic plan. If you have a family and want to give them all access, you can stream Netflix on four screens at once with the Premium plan.
Cons
Content library varies according to location. You may be excited to read a news article or new reviews revealing your favorite TV shows and movies are now available on Netflix, only to discover it's only accessible for subscribers living in a different part of the world.
Rotating content. Because licensing deals expire with Netflix, people run the risk of getting into TV shows and movies they love, then being disappointed to find that it's been removed from the content library.
Data cap. If you don't have unlimited data on your mobile phone or tablet while you're using Netflix, you won't like that the streaming service uses it all up rapidly.
Types of content available
You can view a vast library of content on Netflix. These are split into shows and movies. Our reviews cover a huge range of titles available with all rights reserved.
Everyone will like to watch TV series – to view the top series available on Netflix, navigate to the Series tab on the menu bar. There's a whole host of genres you can choose from: action & adventure, anime, British, classic & cult, comedies, crime, docuseries, drama, horror, international, K-drama, kid-friendly, LGBT, mysteries, reality, romance, sci-fi & fantasy, science & nature, Spanish-language, stand-up & chat shows, teen shows, thrillers and more. Alternatively, click on the shows tab to read our reviews of titles you will love.
You can view the best series on Netflix, or pick up where you left off with shows you're already in love with. Alternatively, you can look at what's trending now, or see which shows you like on My List to watch later. Additional sub-menus include award-winning TV programs, Netflix Originals, women who rule the screen, top picks for you and more. To get further guidance, read our reviews.
If you want to settle in for a night of movies, Netflix is a selection you will love. There's such a huge range of options, so you'll be spoilt for choice. Navigate to the Films tab on the menu bar, and pick a genre. Alternatively, enter a title or actor into the search bar if you're looking for something specific. Genres available for movies include: action, anime, comedies, crime, documentaries, family features, musicals, rom-coms, sci-fi and sports. Reviews of movies can prove particularly useful, and small descriptions are included on the site.
You can continue watching the best Netflix movies you haven't finished yet, see Netflix best series or what you've earmarked to view at a later date. Alternatively, more sub menus on your screen from this company could include crime dramas, hidden gems, romantic independent films and critically-acclaimed films.
Top Netflix TV shows and movies
Stranger Things
Set in a small Indiana town in 1983, this Netflix series begins with Joyce Byers' son, Will, going missing. A terrifying investigation is launched into his disappearance, and this leads to the discovery of secret government company experiments, supernatural creatures and an incredibly unusual girl.
Black Mirror
This unique TV show from Netflix features dramas which are completely stand-alone and discuss paranoia about technology and a collective unease about the world as it exists today.
The Crown
This popular royal drama chronicles the life of Queen Elizabeth II, starting from when she was a princess and moving through her journey to become the British monarch with husband Prince Philip at her side. The cast includes Claire Foy, Matt Smith, Olivia Colman and Tobias Menzies.
The Irishman
Set in the 1950s, this movie sees truck driver Frank Sheeran get involved in crime as a hitman with Russell Bufalino and his crime family based in Pennsylvania. He gets more and more entangled, going to work for the powerful Jimmy Hoffa.
Grace and Frankie
After spending a lot of time as rivals, Grace and Frankie have their worlds turned upside down when they find out their husbands are in love with each other. Instead of continuing to compete against one another, the two ladies learn to rely on each other instead.
Lucifer
Feeling bored in his role as the Lord of Hell, Lucifer goes against his father (God) by giving up his throne and going to Los Angeles. While there, he runs a nightclub called Lux and gets tangled up in a murder case with Detective Chloe Decker.
Making A Murderer
Steven Avery spent nearly two decades in prison for a crime he didn't commit, and filed suit against Manitowoc County, along with several people who were involved in his arrest. However, he found himself behind bars again shortly after, accused of another murder. Columbia graduate students read Avery's story and took it on as a documentary.
Orange Is The New Black
Piper Chapman's past suddenly comes back to haunt her in this Netflix series when she is sentenced to time in a women's prison in Connecticut for associating with a drug runner 10 years previously.
Jessica Jones
This series explores the life of Jessica Jones, one of the darker characters from the Marvel franchise.
The Ranch
Colt, played by Ashton Kutcher, goes home to his family's ranch in Colorado after the failure of his football career. His plans to run the family company alongside his father prove more difficult than expected, and he also finds himself torn between two women.
Mindhunter
FBI agents Holden Ford and Bill Tench work to understand serial killers by understanding what goes on in their heads. The two agents are at the top of their game by developing the profiling of modern serial killers.
XOXO
Six strangers experience their lives colliding together during a night featuring romance and chasing dreams when a young DJ is presented with the opportunity to perform at a festival.
The Fundamentals of Caregiving
After experiencing a personal tragedy, a writer retires and becomes a caregiver for a disabled teenager. When they go on a road trip, their coping abilities are put to the test.
TAU
A woman is trapped inside a hacker's house and subjected to his experiments. She tries to hack the computer program running the house in order to escape.
Bird Box
A mysterious force is wiping out the population, and the only thing people know is that if you see it, you die. Survivors have to avoid facing this force, which takes the shape of their worst fears.
Mowgli: Legend of the Jungle
A human child is raised by wolves in the Indian jungle. He learns the rules of the jungle from a bear named Baloo and a panther called Bagheera. But he soon stumbles across his human origins, plus a formidable enemy.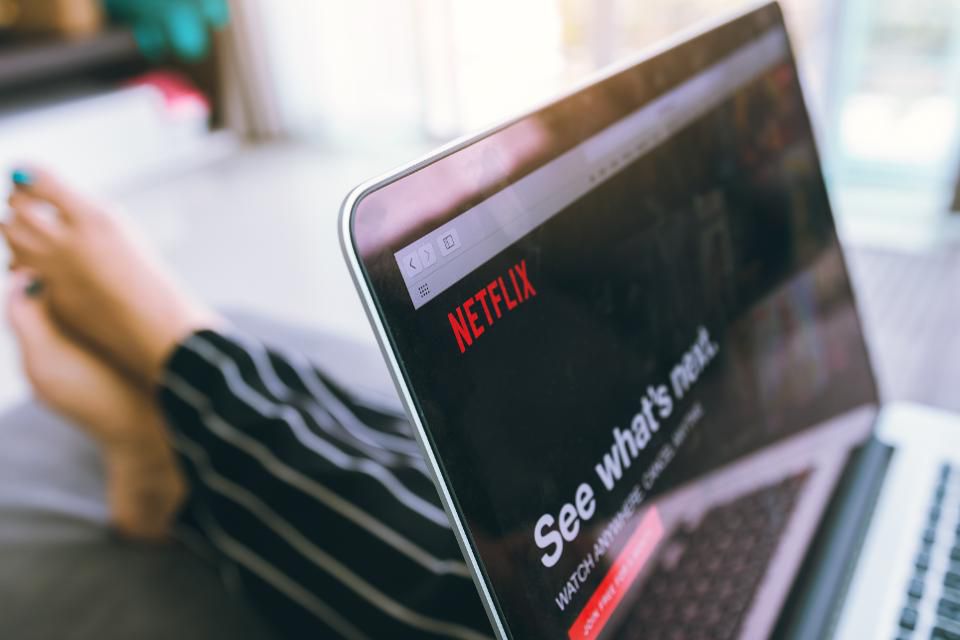 User Interface
When you first load up Netflix, you will be asked which profile you want to use. This is where you will have access to multiple screens if you are on the premium plan.
Once you are through to the main Netflix page, you will have a bar at the top next to the Netflix logo where you can navigate to series, films, recently added titles or your list. The My List feature allows you to bookmark content for future viewing.
When you click through to the series and movies pages, there will be a drop down menu at the top where you can choose the genre you want a selection to come from. There are also rows of titles on offer, based on sub sections such as your list, a Continue Watching bar, recommendations based on recent movies you've watched, trending titles and more.
When you click on an individual title, you will be able to see a whole host of reviews and information. Below the title will be a percentage match based on how well it fits in with your viewing habits, so you'll know if you're likely to enjoy it. There is also the release date, the motion picture content rating, a short summary of the title, a fact about it, the genres it fits into, the main cast and a thumbs up or down icon. You can also add it to your list, or simply press play.
How to watch
People watch Netflix on a range of devices. You may find you wish to use this company streaming service on your tablet or smart TV, in which case there will most likely be the option to download the Netflix app. If your TV doesn't have the app, you can purchase a streaming device to act as the middleman. Check out the best company reviews to make your choice. Alternatively, you can simply use your laptop or desktop, or even find your video game console handy.
The best streaming devices compatible with Netflix include Android TV, Nvidia Shield, Roku, Chromecast, Apple TV and Fire TV. Netflix can be browsed using the video game consoles PlayStation 3, PlayStation 4, Xbox 360, Xbox One, PS Vita, Nintendo Wii U and Nintendo 3DS.
Compatible mobile devices include Android, iOS – that is, iPhones and iPads – and Windows phones. Finally, if you want to use a smart TV or Blu-Ray player, virtually every brand is compatible, including Sony, Sharp, LG and Samsung. If you want to double check before buying a device, check out the Netflix site for information and reviews.
To stream Netflix service titles on your chosen device, you will need an internet connection with at least 0.5 megabits per second. The recommended speed is 1.5 megabits, and if you want SD quality you will need 3.0 megabits. If you want to make the most of HD quality streams with the premium plan, 5.0 megabits per second will be the most effective, while 25 megabits is what you'll need to achieve ultra HD quality.
If you upgrade your plan to premium and want to watch your favorite shows and movies in HD, you will need to change your video quality to either auto or high. Once this setting is activated, movies and TV will play in HD with connections of 5.0 megabits per second or more.
Be aware that higher quality streams will use more bandwidth, so if you don't have access to unlimited data as part of your broadband setup, it's recommended that you manage your bandwidth usage by setting the video quality to low or medium. This way, you won't use up data as quickly.

Unlimited movies, TV shows, and more.
Watch anywhere. Cancel anytime.