Helpsters is a live-action series for pre-school audiences from the creators of Sesame Street. It stars Cody and a team of monsters called Helpsters who love solving problems.
The episodes show the team tackling various new problems, from planning a party to climbing a mountain or learning a magic trick. The overall premise is that they can figure anything out by planning a method to reach a solution.
Many alumni from both Sesame Street and The Jim Henson Company were involved with the project, and the puppet characters were both designed and built by Monkey Boys Productions.
Helpsters was first announced in March 2019 during Apple's launch event, It's Showtime, which took place in Cupertino, CA. Big Bird from Sesame Street appeared with Helpsters character Cody on stage to introduce the show.
Cody said that: 'Coding fosters collaboration, critical thinking skills, and is an essential language that every child can learn.'
'By teaching preschoolers about coding, we're giving them the opportunity to change the world.'
Big Bird said in response: 'You're helping kids to grow up to be smarter, stronger and kinder.'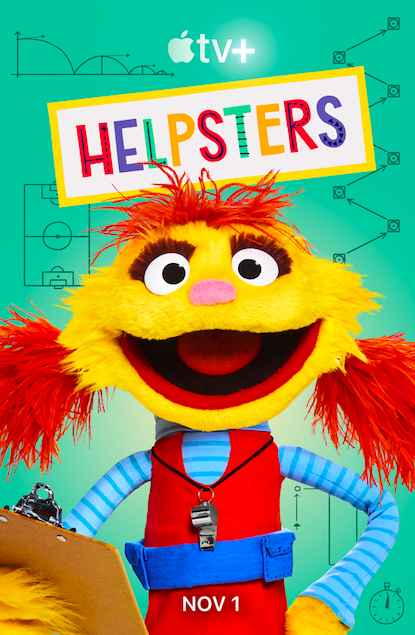 Cody is played by Stephanie D'Abruzzo, and is the leader of the Helpsters. She has a positive attitude which spurs everyone into action.
Mr Primm is played by Martin Robinson. He is a sophisticated character, but has a hidden wild side to him. He loves to help out but becomes fixated on doing things in the correct way.
Scatter is played by Tim Lagasse. As the name suggests, he is prone to being scatterbrained. He is the youngest member of the team but is good at thinking outside the box.
Heart is played by Ingrid Hansen. Heart will do exactly as instructed, so it's best to be precise when you tell her what she should be doing.
Jackie is played by Jennifer Barnhart. She is the closest friend of all the Helpsters who appears whenever they need additional help. Her mumbles can only be understood by the team.
Apple TV+ launches on November 1, 2019. It is priced at $4.99 a month after a seven day free trial.

Choose from thousands of TV shows and movies.
Get stuck in with no fixed contract now.