Love Psych? Check out Amazon Prime Video and stream all seasons now!
Peacock, NBCUniversal's new streaming service, launched with thousands of hours of free and paid content. This includes the highly anticipated Psych 2: Lassie Come Home movie. But is it any good? Check out our take on it!
Psych 2 release date
Psych 2 is available now on Peacock. Peacock launched July 15th, and though Psych 2 initially seemed to be an exclusive to the Premium tiers, it's actually available on the standard, free plan.
Is there a Psych 2 trailer?
You can watch the trailer for Psych 2: Lassie Come Home on YouTube now.
How to watch Psych 2
All you need to watch Psych 2: Lassie Come Home is a free Peacock account. If you want an ad-free experience, you'll need to purchase the Premium ad-free plan for $9.99 a month. The Premium plan is $4.99 a month. If you're an Android user, you can make use of an exclusive 3 month free trial of Peacock's Premium service – just download the app from Google Play and make your account on an Android device. If you don't have an Android device, Peacock offer a 7 day free trial you can use instead. Peacock is available on Apple, Android and Smart TVs – though so far it's unavailable on Roku and Amazon Fire Stick, though there is a handy trick you can use to stream Peacock on your Fire TV.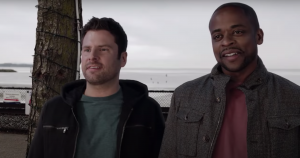 What is Psych 2 about?
Psych 2 is a sequel to 2017's Psych: The Movie. It features James Roday Rodriguez and Dulé Hill returning to their roles as Shawn Spencer and Burton 'Gus' Guster. Taking place two years after the events of the first film, Psych 2 sees Shawn and Gus investigating a grisly – and possibly supernatural – mystery to help the injured Carlton Lassiter, while juggling huge revelations in their personal lives. Expect plenty of pop culture references and laughs (a big one coming from Shawn and Gus's office being turned into a cat café in their absence), all in classic Psych style.
Who is in Psych 2?
Alongside Rodriguez and Hill, you'll also see returning stars Timothy Omundson as Carlton Lassiter, Maggie Lawson as Juliet O'Hara, Kirsten Nelson as Karen Vick and Jazmyn Simon as Selene. There are also plenty of quick appearances Psych fans will recognise – Kristy Swanson as Marlowe Viccellio, Sage Brocklebank as Buzz McNab and even Jimmi Simpson as Mary Lightly.
 Is Psych 2 good?
So far Psych 2: Lassie Come Home has an 80% critics score on Rotten Tomatoes, though there's not yet a Critics Consensus. Critics are praising its humour and general feel-good vibe.
For a refresher before you watch Psych 2: Lassie Come Home, Amazon Prime Video is streaming all seasons and Psych: The Musical now.
Related Articles

Get your free Amazon Prime Video trial to watch all seasons of Psych today!