Welcome to the first edition of Rewind Reviews, where we take a spoiler-free look at movies old and new that are streaming now – and let you know if they're worth a watch.
Our first film is director Ari Aster's horror masterpiece Midsommar, which streams on Amazon Prime Video. Released theatrically in (appropriately) the summer of 2019, it garnered critical acclaim but was unfairly snubbed at the Oscars. Check out our review of this sinister, summery horror below.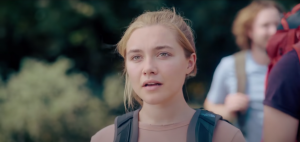 Starring powerhouse and relative newcomer Florence Pugh, Midsommar follows a group of anthropology students on a trip to visit the commune of the Hårga in Sweden. Lead by Hårga native Pelle (Vilhelm Blomgren), the group consists of Dani's boyfriend Christian (Jack Reynor), serious student Josh (William Jackson Harper), jokester Mark (Will Poulter) and traumatised Dani – an uncomfortable outsider to the group of friends, brought along by her boyfriend after a horrific family tragedy destroyed his plans of breaking up with her before the trip.
When the group arrive at the Hårga's commune, they sink slowly but inexorably into a dreamy, psychedelic experience that turns quickly into a nightmare. While fault lines in her relationship with Christian become clearer, exposed beneath Sweden's sunshine, Dani begins to find a new kind of belonging among the Hårga.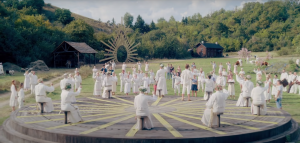 Pugh gives a fantastic, fraught performance as Dani. The film wouldn't work without Dani being sympathetic, and Pugh achieves this in spades. Her palpable panic and overwhelmed breakdowns add to Midsommar's creeping, unnerving fear. The horror plays out in bright, sunny Sweden, where even in the middle of the night the sky is still light enough that there's nowhere to hide.
Midsommar is a story of fear, isolation, sadness, codependency and catharsis. The tension builds up consistently to the unforgettable finale, helped along the way by alien ancient rituals and the sense of a net tightening around the central characters.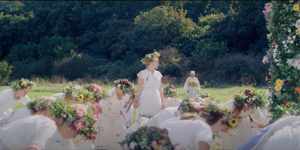 With lush scenery, exquisite costumes (the most iconic being a dress made of cascades of vibrant flowers – 10,000, to be exact), a deep and dark orchestral score and stunning production design, Midsommar is not a movie to be missed. If you didn't catch it at the theater, you can watch it on Amazon Prime Video now with a 30 day free trial.
Watch if you liked: Hereditary (Amazon Prime Video), Lady Macbeth (available to buy/rent on Amazon Prime Video), The Wicker Man (Amazon Prime Video)

Look out for: Florence Pugh as Yelena Belova in Marvel's Black Widow, slated for theatrical release November 6th 2020

Rating: R

Runtime: 138 minutes

Director: Ari Aster

Distributor: A24

Choose from thousands of TV shows and movies. Get stuck in with no fixed contract now.