Netflix users in many global markets are now able to watch a selection of Studio Ghibli films, which are being added to the platform on a monthly basis between February and April.
Here is a summary of each film, as well as a list of the movies making their debut on the streaming platform over the next few months.
February Studio Ghibli films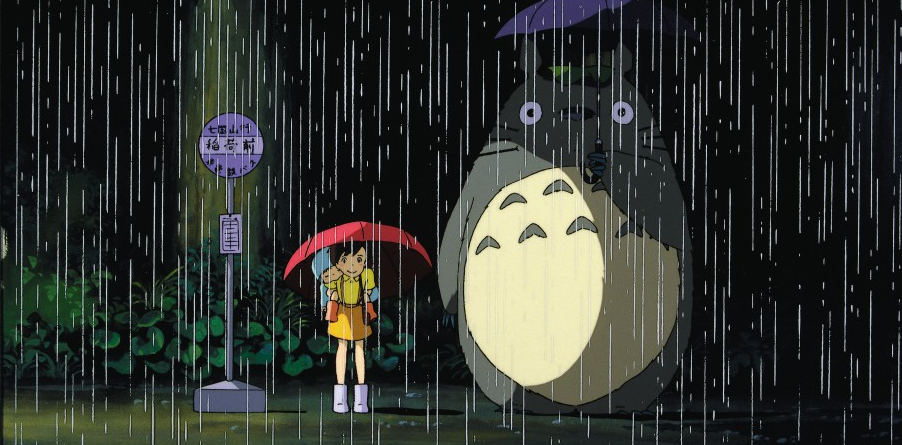 Castle in the Sky (1986) – Sheeta, a young orphan girl, is on an airship after being abducted by government agent Muska. The ship is attacked by Captain Dola, looking for Sheeta's small blue crystal pendant. She falls from the airship but a mysterious power in the pendant slows her fall. She lands in a mining town where a young boy called Pazu finds her. Pazu finds out her full name and gets wrapped up in the danger.
My Neighbor Totoro (1988) – Tatsuo Kusakabe and his daughters Satsuki and Mei move into an old house to be near the girls' mother Yasuko, who is in hospital. The house is full of small spirits called susuwatari. Two of them lead Mei to a large tree, where she finds a larger spirit called Totoro.
Kiki's Delivery Service (1989) – Trainee witch Kiki leaves home at 13 with her black cat, Jiji. She goes to the port city of Koriko, and helps a bakery owner called Osono with a broomstick-delivered goods service in exchange for accommodation.
Only Yesterday (1991) – Taeko Okajima is 27, unmarried, and works in Tokyo. She escapes city life with a visit to her brother in law's older sibling's family in the rural countryside. Her brother in law's second cousin Toshio picks her up, and as the visit progresses, she begins to wonder if she has been true to her childhood dreams.
Porco Rosso (1992) – A veteran World War 1 fighter and bounty hunter called Porco Rosso fends off a ferry liner attack before having dinner at a hotel run by his friend Gina. The pirates who tracked the ferry liner contact an ace called Curtis to help them with further attacks. Curtis falls in love with Gina, but sees she is affectionate towards Porco. Curtis shoots Porco down while his engine is out, and claims that Porco is now dead.
Ocean Waves (1993) – Taku Morisaki sees a familiar woman at Kichijoji station in Tokyo. Later, he tells the story of the events which brought her into his life. The rest of the tale is told in flashbacks.
Tales from Earthsea (2006) – A crew on a war galley are dealing with a storm. Two dragons are suddenly seen fighting above the clouds. The White Dragon is killed by the Black Dragon – an event which was believed to be impossible for centuries.
March Studio Ghibli films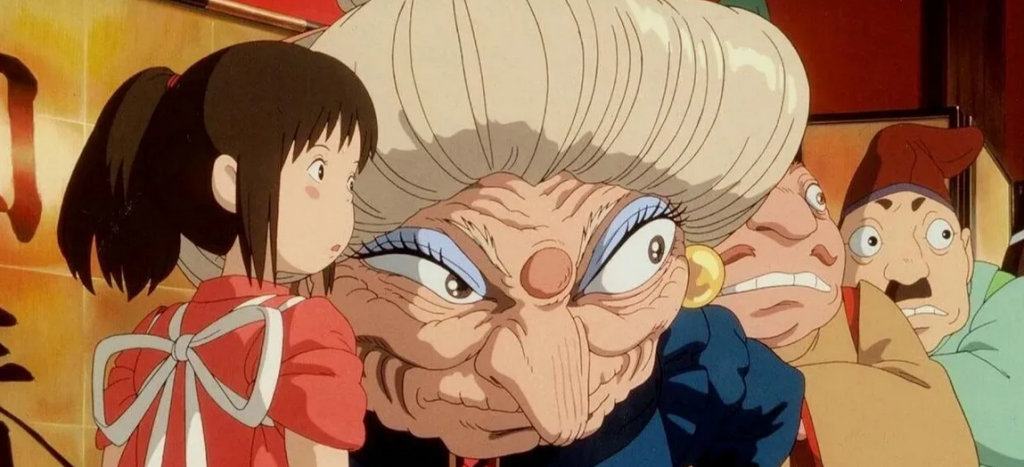 Nausicaä of the Valley of the Wind (1984) – The Seven Days of Fire was an apocalyptic war which destroyed civilisation and created the Toxic Jungle. This forest is poisonous and full of mutant insects. A thousand years later, a prophecy in the kingdom of the Valley of the Wind predicts a saviour in a blue robe. Nausicaa is the princess of the Valley and explores the jungle. She is able to communicate with the creatures, and hopes to find a way for it to co-exist with humans.
Princess Mononoke (1997) – Set during the Muromachi period, an Emishi village in Japan is attacked by a demon. Ashitaka, the last Emishi prince, kills it, but the corruption curses his right arm. While the curse gives him superhuman strength, it will eventually spread to the rest of his body and kill him.
My Neighbors the Yamadas (1999) – A comedy series following the lives of the Yamada family. Each vignette showcases dramas such as losing a child in a store, getting a first girlfriend and various family relationships.
Spirited Away (2001) – Chihiro and her parents are travelling to their new home. Her father takes a shortcut, and they stop in front of a tunnel leading to an abandoned amusement park. Her parents explore, dragging Chihiro with them. The restaurant is still stocked with food, and her parents begin to eat. Chihiro finds a bathhouse, where a boy called Haku tells her to return across the riverbed before sunset. But Chihiro finds out her parents have turned into pigs, and she can no longer cross the river.
The Cat Returns (2002) – Haru Yoshioka is a quiet high school student who has a hidden ability to talk to cats. She saves a cat from being hit by a truck, and the cat is Prince of the Cat Kingdom. She is offered the Prince's hand in marriage, and is taken into the cat world.
Arrietty (2010) – Sho discusses the time he spent a summer at his mothers' childhood home with his great aunt Sadako and house maid Haru. Sho sees a cat trying to attack something, but it gives up. He gets a glimpse of a young Borrower girl called Arrietty going home through an underground air vent.
The Tale of The Princess Kaguya (2013) – Sanuki no Miyatsuko is a bamboo cutter who finds a tiny girl inside a bamboo shoot. He raises her with his wife, calling her Princess. She grows rapidly and Miyatsuko plans to make her a princess after also finding gold and fine cloth in the same bamboo grove.
April Studio Ghibli films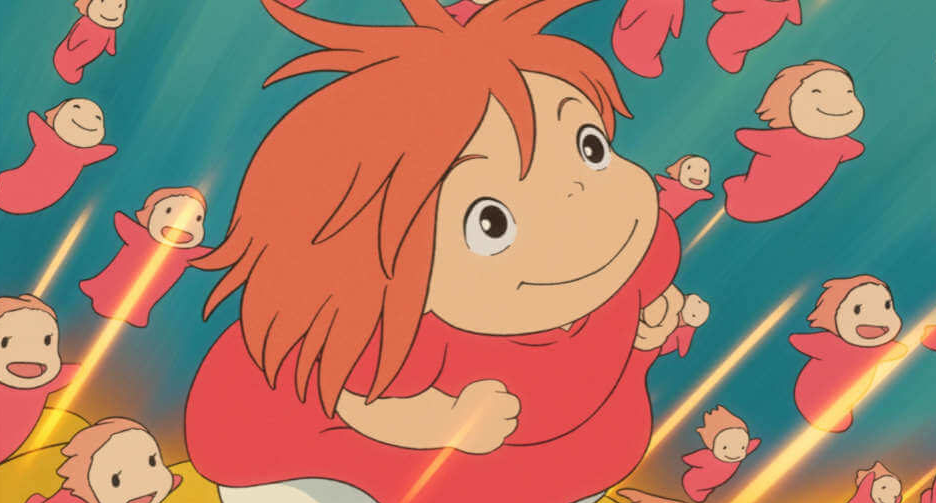 Pom Poko (1994) – A group of Japanese racoon dogs – tanuki – have their forest home threatened by a huge suburban development project called New Tama, located on the outskirts of Tokyo. The tanuki have limited living space and decreasing food, and start fighting amongst themselves. Matriarch Oroku urges them to come together so the development is stopped.
Whisper of the Heart (1995) – 14 year old student Shizuku Tsukishima is a keen writer and bookworm who encounters a young man called Seiji who checks out her library books and annoys her. They end up becoming friends, and Shizuku creates a fantasy story about a cat statuette she finds in an antique shop called The Baron.
Howl's Moving Castle (2004) – A young milliner called Sophie comes across a wizard called Howl as she travels to visit her sister Lettie. When she comes home, the Witch of the Waste turns her into a 90 year old woman. She leaves home to try and break the curse. A living scarecrow leads her to Howl's moving castle, where she enters without invitation and announces that she has 'hired herself' as a cleaning lady.
Ponyo (2008) – Fujimoto, who was once a human wizard and scientist, lives underwater with his daughter Brunhilde and her siblings. While out with her father, Brunhilde sneaks away on the back of a jellyfish. She is trapped in a glass jar and floats to a small fishing town where a five year old boy called Sosuke finds her.
From Up on Poppy Hill (2011) – 16 year old student Umi Matsuzaki lives in a boarding house and runs it, looking after her siblings and grandmother. A college student called Sachiko and a doctor in training called Miki also live there. Umi meets Shun, author of a poem published in the school newspaper about Umi's daily signal flag raising.
The Wind Rises (2013) – Jiro is a young aspiring pilot in 1918, but his poor eyesight obstructs his dreams. Famous aircraft designer Giovanni Battista Caproni appears to him in a dream and says building planes is better. Five years later, Jiro is studying aeronautical engineering when he meets Naoko Satomi. He sees her again several years later, and they become engaged – but Naoko has tuberculosis.
When Marnie Was There (2014) – Anna Sasaki lives in Sapporo with her foster parents. After an asthma attack and a withdrawn mood, the doctor sends her to a rural location for clean air. While there, Anna sees an abandoned mansion. She's trapped there by the rising tide until a fisherman called Toichi finds her. Later that night, Anna dreams she sees a blonde girl in the mansion.

Choose from thousands of TV shows and movies.
Get stuck in with no fixed contract now.