Keeping Up With The Kardashians fans will most likely have seen the explosive first episode of season 18, which saw Kourtney and Kim get into a physical fight.
The fight began when Kourtney, Kim, Khloe and Kendall were talking about Kylie Jenner being unable to walk in a fashion show due to being unwell.
Kim said that if she were 'on her deathbed' she would still 'show up''. She went on to imply that Kourtney and Kylie didn't have as strong a work ethic as her, saying 'Mom is so used to me and Khloe going on our deathbeds'.
While Kendall insisted that she also works hard, Kim said 'No, you'll get anxiety and it's hard for you.' This led to Kourtney taking offence, saying 'You act like I don't do s***.'
'You have this narrative in your mind,' she went on, but when Kim tried to interrupt, Kourtney said 'No, no, no, I will literally f*** you up if you mention it again.'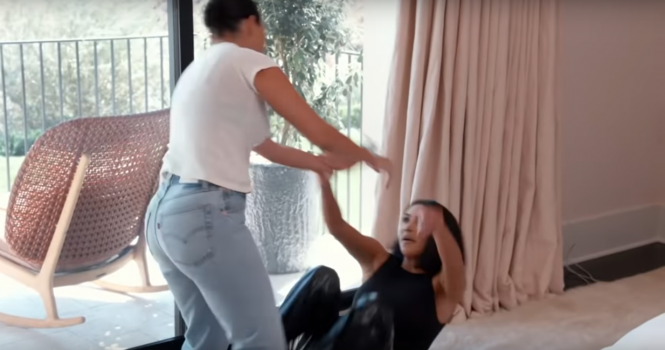 When Kim tried to laugh off the heated argument, Kourtney told her to 'shut the f*** up and don't laugh like that.' She then said that Kim needed to 'change the narrative' in her mind.
Then she said 'If I didn't want to work my ass off and I wanted to be a stay at home mom, that's f***ing fine, you f***ing literal…' she then threw a water bottle at her younger sister.
Kourtney got up and grabbed Kim, while Khloe tried to break them up. Kim said 'Don't ever come at me like that. I swear to god, I'll punch you in your face.'
Kim followed Kourtney to the door, saying 'Don't ever dig your nails into me like that. How old are you?' The two continued to try and kick or punch each other as Khloe stood between them.
Fans will have to wait until the next episode to see what happens next.
Here's how you can tune into Keeping Up With The Kardashians on E!
Sling TV – A Sling Blue free trial offers unlimited entertainment options.
FuboTV – Make the most of your free trial immediately with a huge range of TV shows.
Hulu – Get all the top TV shows with Hulu Live TV right away.
AT&T TV Now – Stream both live and on demand TV with no contract now.
YouTube TV – Enjoy the latest episodes of your favourite shows instantly.
Related Articles

Choose from thousands of TV shows and movies.
Get stuck in with no fixed contract now.