Welcome to Rewind Reviews, where we take a spoiler-free look at movies old and new that are streaming now – and let you know if they're worth a watch.
Our seventh film is Ryan Coogler's superhero epic Black Panther, in honor of Chadwick Boseman following his tragic death last week.
Black Panther was released in theaters back in 2018 to critical acclaim – and it was a hit with audiences, who praised the groundbreaking representation of Black strength and heroism in a blockbuster on this scale.
The movie grossed over $1 billion at the box office and became the first superhero film to score a Best Picture nomination at the Oscars. Black Panther became a massively popular hero – and a highlight of Avengers: Infinity War and Avengers: Endgame.
Check out our review of this history-making superhero film below.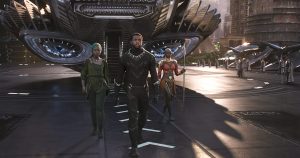 Black Panther follows T'Challa (Boseman) following his father's death. He takes the crown of the fictional kingdom of Wakanda and shoulders the responsibility of both leading the nation and protecting it as its hero Black Panther. He's helped by his sister Shuri (Letitia Wright), mother Ramonda (Angela Bassett), bodyguard and friend Okoye (Danai Gurira), and spy Nakia (Lupita Nyong'o).
T'Challa's problems come in the form of Michael B. Jordan's Erik Killmonger, who plans to take Wakanda's throne and turn its futuristic, highly advanced technology against the rest of the world. Martin Freeman's Everett Ross and Andy Serkis' Ulysses Klaue also join the fray – along with Daniel Kaluuya's W'Kabi and Winston Duke's M'Baku.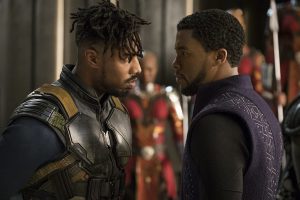 It's impossible to talk about Black Panther without emphasising how immediately iconic Boseman made the role. He'd already brought T'Challa to the big screen in 2016's Captain America: Civil War, but this film marked the first solo appearance of the hero – and the first time a Black superhero had been front and center in a production of this size. The cultural significance of Black Panther cannot be overstated, as the outpouring of grief in the wake of Boseman's death can attest.
Boseman brought a dignified gravitas to the role, as well as a fierce heroism and aching vulnerability. He's effortlessly cool suited up as Black Panther, as well as down to earth and relatable as Shuri's big brother. Furthermore, the quiet, grief-stricken moments when he meets his father T'Chaka (John Kani) on the beautiful Ancestral Plain are profoundly moving.
Wright also shines as Shuri, the spirited young genius with a mischievous sense of humor, and Gurira turned Okoye into a fan favorite with her strong performance as Okoye. Nyong'o is another standout as Nakia – but Jordan steals every scene he appears in as Killmonger. An incredibly complex, multifaceted villain, Jordan expertly captures Killmonger's sharp-edged righteous anger and drive for revenge.
The movie's plot weaves together themes of colonialism and internationalism against a Shakespearean family tragedy played out across generations – making the film both strikingly relevant and deeply emotional.
The cinematography is incredible, with Wakanda portrayed as a gleaming utopia featuring rolling plains and rocky outcrops. The Ancestral Plain glows with vibrant and stunning blues and purples.
Ludwig Göransson's score infuses every scene with the appropriate atmosphere – from the awe of T'Challa soaring over Wakanda to the dark tension of Killmonger's appearance before the throne.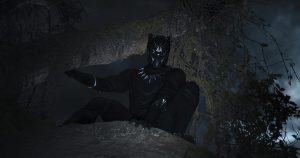 Boseman's death is a staggering loss. Black Panther immortalises him as an enduring hero to a generation of young Black children – and surely future generations too.
In his speech after the Black Panther cast won the SAG Award for Outstanding Performance by a Cast in a Motion Picture, Boseman said: 'We all know what it's like to be told that there is not a place for you to be featured, yet you are young, gifted and Black. We know what it's like to be told there's not a screen for you to be featured on, a stage for you to be featured on'.
Black Panther inspired a generation of 'young, gifted and Black' children who saw themselves represented onscreen by T'Challa, his family and his friends – and that is a legacy that will live on.
As T'Challa so often says: 'Wakanda forever.'
The movie can be streamed now with a Disney Plus subscription, along with Boseman's other appearances in the Marvel Cinematic Universe (Civil War, Infinity War and Endgame).
Watch if you liked: Captain America: Civil War (Disney Plus), Avengers: Infinity War (Disney Plus), Wonder Woman (HBO Max)

Look out for: Several upcoming MCU projects, such as The Falcon and the Winter Soldier and Shang Chi and the Legend of the Ten Rings

Rating: PG-13

Runtime: 135 mins 

Director: Ryan Coogler

Studio: Marvel Studios

From classic flicks to Marvel movies and more. Watch at home or on the go with no fixed contract.