Welcome to Rewind Reviews, where we take a spoiler-free look at movies old and new that are streaming now – and let you know if they're worth a watch.
Our sixth film is Ron Howard's galactic adventure, Solo: A Star Wars Story. Released in theaters back in 2018, the film wasn't a massive hit at the box office – but it has been highly praised by fans since. Check out our review of this star-studded space flick below.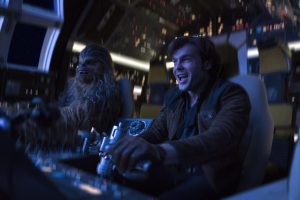 Solo follows a young Han Solo (Alden Ehrenreich) before his iconic heroics in the original Star Wars trilogy. We see him escape his crime-controlled home planet of Corellia by joining the Empire's forces. Eventually, he meets his future best friend Chewbacca (Joonas Suotamo) and joins up with Beckett (Woody Harrelson) and Val's (Thandie Newton) heist crew.
Han's adventure brings him back into the orbit of the woman he was forced to leave behind, Qi'ra (Emilia Clarke), and sees him go up against villainous crime syndicate leader Dryden Vos (Paul Bettany).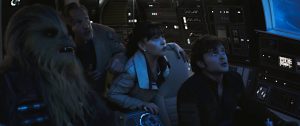 Fans could be forgiven for thinking Harrison Ford is the only person capable of portraying Han Solo, but Ehrenreich is fantastic in the role – bringing Han's charm and sense of humor, as well as his intelligence and drive to do the right thing (most of the time). Donald Glover is equally brilliant as Lando Calrissian, and just as suave and stylish as Billy Dee William's incarnation of the character.
Clarke, perhaps most famous for her role as Daenerys Targaryen in Game of Thrones, gives a nuanced performance, subtly hinting at her character's hidden traumas and complex past – while Phoebe Waller-Bridge does excellent voice work for the passionate and hilarious L3-37. And, of course, Harrelson shines as Beckett.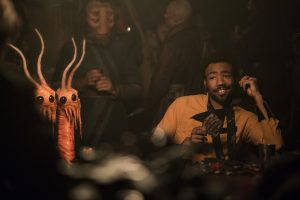 Solo is bursting with energy and filled with exciting action sequences – most notably a chase that sees a clash between the Millenium Falcon and a giant, squid-style monster hidden deep in space. The movie is made all the more enjoyable by its fantastic characters: along with fan favorites like Han, Lando and Chewie, there's also the addition of some excellent newcomers, particularly Enfys Nest. Plus, there's a very intriguing cameo from a character everyone will recognise.
As fun a ride as the movie is, it doesn't shy away from deeper emotion, either – particularly through the character of Qi'ra, and especially in the final act.
The movie is also very visually distinct from other instalments in the saga, with plenty of dark, neon-lit scenes as well as bright and bold moments.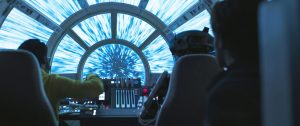 Overall, this is an exciting adventure movie that adds to the Star Wars universe while giving us insight into one of the saga's most beloved characters. A must-watch for Star Wars and sci-fi fans everywhere.
If you missed it at the theater, you can stream Solo with a Disney Plus subscription now. As well as the Star Wars saga, you'll also have access to the Marvel Cinematic Universe and hours of classic animated movies.
Watch if you liked: Star Wars: The Force Awakens (Disney Plus), The Mandalorian (Disney Plus), Thor: Ragnarok (Disney Plus)  

Look out for: More Star Wars content coming to Disney Plus in the future, including season 2 of The Mandalorian and Kenobi starring Ewan McGregor

 Rating: PG-13

 Runtime: 135 mins

 Director: Ron Howard

 Studio: Lucasfilm/Disney

From classic flicks to Marvel movies and more. Watch at home or on the go with no fixed contract.