Love free streaming? Try a 30 day free trial with Amazon Prime Video for hours of great movies and TV shows.
There's plenty of brand new content hitting streaming services today (July 17th), so you won't be short of something great to watch this weekend. We've rounded up everything new worth checking out below:
Absentia
After season 2 of this hit TV show ended with a shocking revelation, season 3 promises more twists and turns as former FBI agent Emily Byrne (Stana Katic) struggles to piece together the mystery of her six year disappearance and deal with new threats. In season 3, new character Colin Dawkins (Geoff Bell), a fixer working for an international criminal organisation, promises trouble for Emily. You can stream the first two seasons, plus season 3, on Amazon Prime Video now with a 30 day free trial.
Cursed
Starring Katherine Langford as Lady of the Lake Nimue, Netflix's newest TV show is an adaptation of Frank Miller and Tom Wheeler's graphic novel of the same name. A coming of age story, Cursed shows us an alternate Arthurian legend where magical sword Excalibur chooses Nimue instead of Arthur. Joining the ranks of original fantasy series The Witcher and Dark Crystal: Age of Resistance, Cursed gives us a new interpretation of legendary characters (including Arthur and Merlin) across its 10 episodes. It streams exclusively on Netflix and you can check it out with a 30 day free trial now.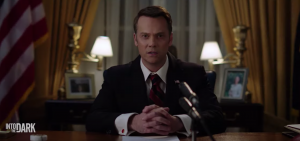 Into the Dark
Blumhouse Television's seasonal, monthly anthology horror series is back with its next offering. New episode 'The Current Occupant' is themed for Independence Day (each episode of the series is based on a different holiday) and follows an amnesiac patient (Barry Watson) on a psychiatric ward – who may or may not be the President of the United States. This timely offering brings psychological horror from director Julius Ramsay (an alum of The Walking Dead, Scream: The TV Series and The Purge) and writer/executive producer Alton Ramsay, who worked in both the Bush and Obama administrations. All previous episodes of Into The Dark are streaming on Hulu now, and you can check them out for free with Hulu's 30 day free trial.
We Are Freestyle Love Supreme
If you loved Hamilton on Disney Plus, this documentary is a must watch. It follows Freestyle Love Supreme, an improv hip-hop group, across 15 years. Hamilton fans will recognise among the group a young Lin-Manuel Miranda, creator and star of both Hamilton and hit musical In the Heights. The documentary streams exclusively on Hulu, and you can watch it via Hulu's 30 day free trial – or try a special bundle with Disney Plus.
Stream hours of hit movies and TV shows with a 30 day free trial from Prime Video and Hulu now.

Try a 30 day free trial with Hulu now for Absentia, Into The Dark and more!