Black Widow is set for release this November. Whether it sticks to that release date or not remains to be seen – more on that here – but for now we can expect the final outing for Scarlett Johansson's Natasha Romanoff this fall.
Whether that will be the final outing for Black Widow or not is also up in the air.
Natasha sacrificed herself in Avengers: Endgame, trading her life for the Soul Stone and a chance to stop big bad Thanos. Black Widow will be a prequel, set between Captain America: Civil War and Avengers: Infinity War. This means there's very little chance for Natasha to be revealed to have miraculously survived the events of Endgame.
But that doesn't mean the mantle has to be retired completely. Similarly to the Falcon taking up Captain America's shield, Natasha could hand her role as a superhero over to another.
The most likely candidate is of course Yelena Belova, played by Florence Pugh. The movie's trailers show her as a sister figure for Natasha, as opposed to their more contentious relationship in the comics.
Comments from director Cate Shortland suggest it's possible for Yelena to keep the legacy going: 'we didn't know how great Florence Pugh would be. We knew she would be great, but we didn't know how great. Scarlett is so gracious, like, 'Oh, I'm handing her the baton.' So it's going to propel another female storyline'.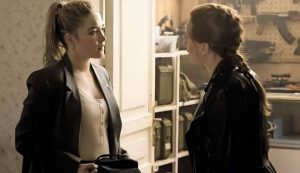 As for Pugh herself, she told Total Film magazine: 'If you get asked to be in a Marvel film, and it was so thrilling and fun and exciting to be in, then of course, your head goes: 'Oh my God. If this is what it's like, then what else is next?'
'If that happens and I am lucky enough that people appreciate my character, that's an exciting road to go on. I would be silly to not be excited by it. I think that being part of the Marvel club is a great honour. But we'll just see if people like Yelena first'.
Plus, Florence Pugh is undeniably one of Hollywood's fastest rising stars, so it would make sense for Pugh to continue the role in the MCU. Marvel have also shown themselves to be committed to telling female-centered stories, so it would be a shame to see the first female Avenger vanish with no one to continue her legacy.
Whether the Black Widow title will survive past the movie or not is just one of the many questions surrounding this release – and we'll have to wait for answers for now.
You can stream the MCU today with a Disney Plus subscription. Check out Civil War, Infinity War and Endgame ahead of Black Widow to ensure you're caught up on Natasha's story.

From classic flicks to Marvel movies and more. Watch at home or on the go with no fixed contract.