Welcome to Rewind Reviews, where we take a spoiler-free look at movies old and new that are streaming now – and let you know if they're worth a watch.
Our third film is director David F. Sandberg's Shazam!, which streams on HBO Max as part of the DC Extended Universe (DCEU). Released in theaters in April 2019, fans and critics alike praised the movie for its heart and light tone. Check out our review of this fun but sincere superhero flick below.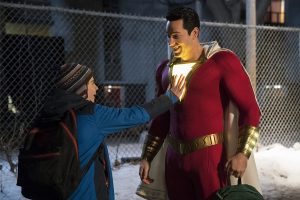 Shazam! sees a young foster kid, Billy Batson (Asher Angel), gain tremendous superpowers after an ancient wizard chooses him as his champion. Billy's new powers mean that, whenever he says the word Shazam, he turns into an adult superhero – played by Zachary Levi. Billy must face off against the sinister Dr. Sivana (Mark Strong), who has gained the power of the grotesque Seven Deadly Sins. As if his newfound powers and terrifying nemesis weren't enough, Billy must also juggle going to high school and settling in with his new foster family – but he has the help of his foster siblings, especially Freddy Freeman (Jack Dylan Grazer) along the way.
Levi is perfect as the adult Shazam, portraying the spirit of a young teenager testing out his new lightning powers and invulnerability (while also trying to sneak a beer or charge for selfies) without trying too hard. Grazer also shines as Freddy, who balances out the dynamic when Billy starts to get carried away by his alter-ego. Angel plays an excellent young Billy – managing to balance the seriousness of his character's tragic past with the film's comedy without going too far either way. The standout performance, however, has to be Strong as Sivana – a menacing but somewhat sympathetic villain, made all the scarier by Strong's intense performance.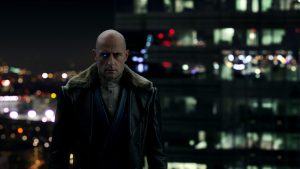 Sandberg leans into his previous horror experience with Shazam!, particularly with sequences involving the monstrous-looking Seven Deadly Sins. His direction and Henry Gayden's screenplay expertly balance the fear-inducing scenes – and the deeply poignant moments of the film – with genuinely funny comedy and exciting action. The film perfectly captures the wonder and awe that superheroes can inspire in anyone (particularly children), as well as the challenges of growing up.
A story of finding your family, togetherness and love, Shazam! has something for everyone to enjoy – whether you're a diehard DCEU fan or have never watched a comic book movie before. Surprisingly emotional and wholehearted, Shazam! firmly establishes itself as a standout part of the DCEU canon – and is definitely a must watch.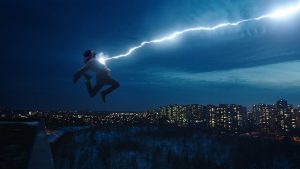 If you missed it at the theater, you can stream Shazam! on a Hulu plan that includes HBO Max now. Why not also check out a Disney Plus subscription to stream even more superhero movies? You can enjoy the Marvel Cinematic Universe (MCU) from Iron Man all the way up to Avengers: Endgame, as well the entire Star Wars saga and classic Disney movies.
Watch if you liked: Wonder Woman (HBO Max), Captain America: The First Avenger (Disney Plus), Spider-Man: Homecoming (available to rent/buy on Amazon Prime Video)

Look out for: DC FanDome on August 22nd for exclusive DCEU updates, including the latest on Shazam! spinoff Black Adam (starring the Rock)

 Rating: PG-13

Runtime: 132 mins

Director: David F. Sandberg

Distributor: Warner Bros. Pictures

From classic flicks to Marvel movies and more. Watch at home or on the go with no fixed contract.