Welcome to Rewind Reviews, where we take a spoiler-free look at movies old and new that are streaming now – and let you know if they're worth a watch.
Our eleventh film is director Todd Phillips' moody, gritty Joker, which streams on HBO Max now.
Released in 2019, Joker scooped plenty of Oscar nominations – and Joaquin Phoenix took home the Best Actor award for his role as the titular character.
The film was a subject of controversy, however, with many fearful it would incite violence, and others critical of its apparent posturing and lack of meaning.
Check out our review of this dark, polarizing film below.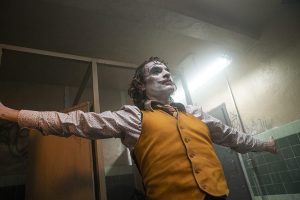 Joker is an origin story with a twist, in that it follows a super-villain in the making rather than a hero. We see the Joker when he was still a normal man called Arthur Fleck (Phoenix), his difficulties within an underfunded mental healthcare system, his close relationship with his mother, and his attempts to be a stand-up comedian.
Amidst all this, Arthur also comes into the orbit of the wealthy Wayne family – and accidentally starts a rage-fuelled protest movement.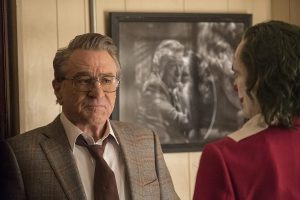 Phoenix is incredible in the title role, disappearing entirely into his character through both a physical transformation and his superb performance. His physicality is phenomenal – everything from his expressions to his tone of voice and mannerisms perfectly embody the lonely, fragile Arthur.
Robert de Niro has a small part in the film, but as always makes the most of his role. His Murray Franklin is every bit the classic, charismatic talk-show host – who turns out to be vital to the plot. De Niro's role also bolsters comparisons between Joker and Taxi Driver or The King of Comedy, both of which he starred in.
Equally brilliant is Zazie Beetz as Arthur's neighbour and potential love interest Sophie. She's cool, kind and grounded in a film that often dances on the line between reality and delusion.
Frances Conroy, who play's Arthur's mother Penny, is also fantastic. She's vulnerable and weakened, and her role is pivotal to Arthur's downward spiral throughout the film – which means much of his characterization rests on Conroy playing the role so skilfully.
Joker presents a more realistic vision of Gotham City than other films have. We see a grimy, crowded setting akin to New York City or Chicago – and with the film's murky color palette, dark interiors and overcast exteriors, it's impossible to escape this claustrophobic feeling of a pressing grimness. There's also no obvious markers of what point in time the film takes place – the Murray Franklin show suggests the 80s or 90s, but it's hard to pin down a solid estimate.
All of this adds to the unreality, the strange displacement, of this film. Like Arthur himself, we're adrift in the setting, buffeted by the shocking events that have Arthur careening towards his violent future. When Arthur finally dyes his hair, puts on the face paint, changes into a red suit and gleefully dances down a staircase, he's the most colorful thing onscreen – a dark premonition of what's in store for Gotham.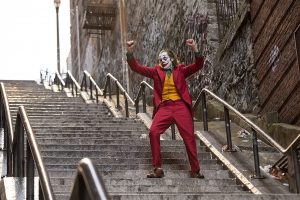 Many criticized the film for its apparent meaningless, especially revolving around the superficially anti-rich clown protests that gather momentum as the film goes on. While it's true that the protests don't have any real substance, with Gothamites dressing as clowns to protest against the wealthy, this doesn't feel like a valid criticism of the film.
Arthur doesn't set out to start an anti-rich movement – it's a moment of brutal, senseless violence that sparks the eventual turmoil. The Joker is chaos incarnate, and that's exactly what the film represents. There's no need for a political message around these protests, because as Arthur himself says, '[he] doesn't believe in anything' – this is violence and rage for its own sake.
There is however a different deeper meaning lurking in this film. Arthur is set on his downward spiral by a system that is badly underfunded, fails him at every turn and eventually leaves him alone. He has no job security, people treat him unkindly when he acts strangely, and he's publicly mocked. There is a message about society's treatment of the vulnerable here, but it's not tied up with the clown protests that have the media so distracted in the film.
It seems, then, that many critics made this mistake too – overlooking the tragic events that lead to the birth of the Joker to focus on meaningless chaos.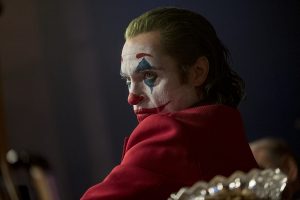 As realistic as the film is, it's impossible to forget this is, technically, a comic book movie. Bruce Wayne (Dante Pereira-Olson) makes a brief appearance – and even if you're not well-versed in the comic book genre you'll know him as the future Batman. Arthur makes a brief visit to Arkham State Hospital, better known as Arkham Asylum in other Batman stories.
In a genre often dismissed as childish or without any substance, it's refreshing to see a film that deals with the seriousness in the stories without shying away from the source material.
In fact, this film is a fairly accurate adaptation of the graphic novel The Killing Joke – while it doesn't follow the plot exactly, Joker certainly took plenty of inspiration from the themes and symbolism of the story.
A grounded, dark and tragic film, this is definitely worth a watch for anyone who wants a serious story about the treatment of the mentally ill and vulnerable – or just an excellent depiction of one of pop culture's most iconic villains.
You can stream Joker with a Hulu plan that includes HBO Max now, which is available to try with a 7 day free trial.
Hulu also offer their own 30 day free trial, giving you access to their expansive library.
Watch if you liked: Taxi Driver (Netflix), The King of Comedy (available to rent/buy on Amazon Prime Video), The Dark Knight (available to rent/buy on Amazon Prime Video)

 Look out for: the next Batman solo film, The Batman, out theatrically next year

 Rating: R

Runtime: 122 mins

Director: Todd Phillips

Studio: Warner Bros.

Tune into the shows everyone is talking about. Sign up now and start saving money.