Welcome to Rewind Reviews, where we take a spoiler-free look at movies old and new that are streaming now – and let you know if they're worth a watch.
Our tenth film is Greta Gerwig's heartfelt adaptation of Little Women, which streams on Hulu now.
Released in 2019, Little Women garnered critical acclaim and 6 Oscar nominations – including Best Supporting Actress for Florence Pugh, Best Actress for Saoirse Ronan, and Best Picture. It ultimately took home one Academy Award for Best Costume Design.
Check out our review of this warm, cosy and emotional film below.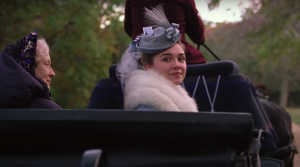 Little Women focuses on the March sisters – Jo, Amy, Beth and Meg. We see their lives across two different timelines – their happy childhood, and their harder adulthood. In the present, Jo is a writer who has moved away to pursue her career, while Amy has gone to Paris with her Aunt March and Meg has married a local – and very poor –  man. Along the way, they meet Laurie, who becomes a close friend as well as a potential love interest for two of the sisters.
The cast is packed with talented stars, with Laura Dern playing Marmee March (the girls' mother), Saoirse Ronan as Jo, Florence Pugh as Amy, Timothée Chalamet as Laurie, Emma Watson as Meg, Eliza Scanlen as Beth, and Meryl Streep as Aunt March.
Ronan, Chalamet and Gerwig all previously worked together on Lady Bird, and it's easy to see this becoming a long-standing collaborative group – Chalamet and Ronan are clearly two of the most talented actors of their generation, and their prowess is on full display in this film. Pugh also again proves herself to be an incredible rising star.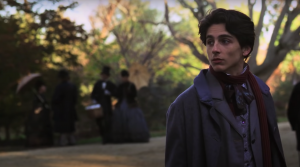 Gerwig's skilful direction – and the quality of her screenplay – ensures Little Women always feels completely naturalistic. This is also of course helped by the actors, who fully embody their characters. Overlapping dialogue, strong emotional performances and fantastic costuming all contribute to the realism of the film.
Some people complained that the timeline of the film was difficult to follow, however again Gerwig's direction ensures the jumps back and forward in time are easy to notice. Changes in hair styling and costuming mark the difference in time period, and the happy, idyllic scenes of the March sisters' childhood are in a warm color palette, while their more hardship-stricken present is shown in a colder, starker tone.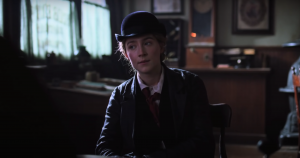 Gerwig draws out the strong feminist themes of the story without ever being heavy handed or didactic. Each of the March sisters has agency over her own story – in a meta style with Jo – and isn't afraid to speak her mind. Amy in particular gives a strong speech to Laurie on the reality of being a woman – and it's not hard to understand why Pugh was nominated for Best Supporting Actress with this scene in mind.
The beautiful costuming and set design also go a long way to making this film such a delight. The March sisters wear fabulous dresses as well as more ordinary clothes, and Gerwig doesn't shy away from using the costuming to point out how wealth and class function in this story: Meg is thrilled at the chance to dress up in an exquisite gown, but after getting married, buying a dress is an expenditure she can barely justify.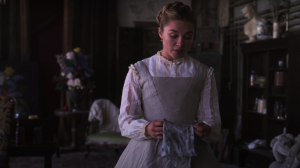 The March house genuinely does feel like a home, whether in the happy scenes of childhood or moments after tragedy has struck the family. The characters feel so real you end the film thinking they could be your neighbours, and you genuinely root for them and their happiness throughout the story.
A beautiful film perfect for the current colder weather (and unusual times), Little Women streams now on a Hulu plan that includes Starz, which you can try with a free trial.
Hulu also offer their own 30 day free trial so you can enjoy their expansive library.
Watch if you liked: Lady Bird (Netflix), Emma, Brooklyn (rent/buy on Amazon Prime Video)

Look out for: Florence Pugh as Yelena Belova in Black Widow, out theatrically next year

Rating: PG

Runtime: 135 mins

Director: Greta Gerwig

Studio: Sony Pictures Entertainment

Tune into the shows everyone is talking about. Sign up now and start saving money.