Welcome to Rewind Reviews, where we take a spoiler-free look at movies old and new that are streaming now – and let you know if they're worth a watch.
Our eighth film is Robert Eggers' strange and surreal The Lighthouse, which streams free on Amazon Prime Video now.
The Lighthouse was released in theaters in October 2019 to excellent reviews. Audience responses were more mixed, and the film grossed $18.2 million worldwide.
Clearly, The Lighthouse isn't a box office smashing blockbuster – but it's still an intriguing, cleverly crafted piece of art worthy of attention.
Check out our review of this psychological and fascinating film below.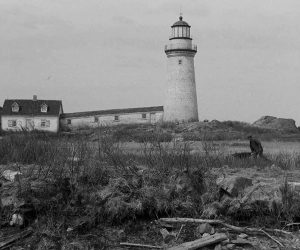 The Lighthouse has a fairly simple premise: two lighthouse keepers (or 'wickies') travel to an isolated lighthouse on a rocky island to care for the lighthouse for a month. One man, Thomas Wake (Willem Dafoe) is more elderly, while Ephraim Winslow (Robert Pattinson) is young.
As their time on the island wears on, the two men often find themselves at odds, with the verbose Wake a hard taskmaster, while Winslow is more quiet and reticent. However, the two eventually indulge in nights of drunken bonding – and Winslow's mental state begins to fracture, with Wake appearing more and more enigmatic as time passes.
Throughout it all, Winslow is desperate to see the light in the lighthouse itself – of which Wake is fiercely protective.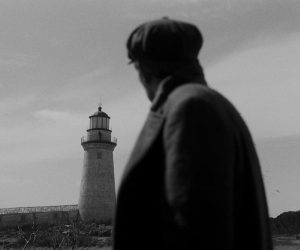 There isn't so much a linear story in this film as there is a situation; the focus is always on the two men, their mental states, the snapshots of their lives they reveal through tales that may or may not be true.  As such, the actors' performances really get a chance to stand out.
Dafoe is practically swallowed whole by the role of Wake, completely disappearing behind the scraggly beard, the thick accent, the naturalistic dialect. He brings Wake thoroughly to life, an animated character against the harsh black and white landscape and dimness of the interiors.
Likewise, Pattinson is fantastic as Winslow – skilfully embodying his reserve and caginess, as well as his wild eyed descent into isolation-induced madness as time wears on.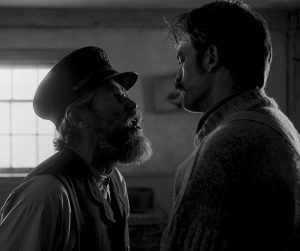 The quality of the writing keeps the film afloat where it may otherwise have been lost in the hallucinatory visuals and creeping, consuming strangeness. Thanks as much to Robert and Max Eggers' screenplay as the lead performances, we're drawn fully into the world of the wickies through their turns of phrase and long, sometimes rambling speeches.
Of course, the visuals also establish the sinister, strange tone and sense of a growing surreality incredibly effectively. Shots of the lighthouse itself make it appear sometimes a cramped space with nowhere to hide, or a never ending spiralling staircase, or something lurking on the horizon, or an impossibly tall structure that bears witness to everything.
One sequence in particular, which quickly intercuts visions of the past, a mermaid, and Winslow frantically raking up debris from the depths of the ocean, enhances the frenzied, desperate madness that eventually subsumes the film.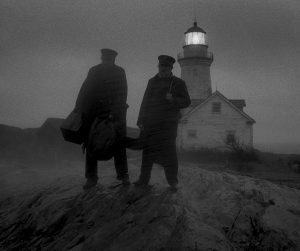 As for what it all means, that seems to be up to each individual viewer. For the full experience, it might be worth brushing up on Prometheus and Proteus after the film (and not before, if you want to avoid thematic spoilers).
Perhaps not for everyone, but definitely worth checking out anyway for a strange and thought-provoking tidal wave of a ride.
You can stream The Lighthouse for no charge now with Amazon Prime Video's 30 day free trial.
Watch if you liked: Midsommar (Amazon Prime Video), The VVitch (Netflix), mother! (available to rent/buy on Amazon Prime Video)

Look out for: Robert Pattinson as Batman in 2021's The Batman

Rating: R

Runtime: 110 mins

Director: Robert Eggers

 Studio: A24

Choose from thousands of TV shows and movies. Get stuck in with no fixed contract now.