The Boys, Amazon Prime Video's hit original superhero TV show, is currently partway through its second season.
It's proved to be a big hit with superhero and TV fans alike, with a third season already confirmed to be on the way.
The Boys is a satire of the superhero genre, presenting a reality where superheroes exist – but are heavily commercialised, under corporate control, and are far less noble than they appear to the public.
The show also isn't afraid to delve into social issues. Season 1 was influenced by the Me Too movement, with Starlight dealing with sexual harassment and forced into a far more revealing costume than her traditional outfit by her boss.
So far, season 2 is tackling racism through Stormfront, who in the comics is a neo-Nazi – and who in the show has already revealed herself to be a violent white supremacist.
Season 2 has also started a critique of LGBTQ+ representation in the superhero genre through Queen Maeve, who was outed on live TV by Homelander and is now under pressure from Vought to conform to their #BraveMaeve campaign.
As unique as The Boys is, there are some TV shows that fans will love for their similarities in style and themes.
Watchmen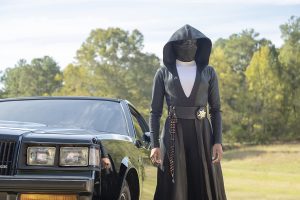 This is another massively popular superhero TV show. It's got tons of critical acclaim, and won big at the Emmys last Sunday (September 20th).
Watchmen, based on the highly praised graphic novel of the same name, takes a critical look at the superhero genre – much like The Boys.
It has also been commended for its examination of white supremacy and racism in America. Watchmen brought the Tulsa race massacre back into the public consciousness, with its plot focusing on a white supremacist group targeting minorities in the town of Tulsa in 2019.
The series stars Regina King and Yahya Abdul-Mateen II, along with Don Jonson and Jeremy Irons.
Even if you've read the graphic novel or seen the Zack Snyder-directed film, Watchmen is still worth a watch for its reinvention of the source material. It's also a continuation of the original story, so even the most committed Watchmen fans on the fence about watching the show will find something new to enjoy in this interpretation.
It's available to stream now on a Hulu plan that includes HBO Max, which you can try with a 7 day free trial. Hulu also offer their own 30 day free trial.
Supernatural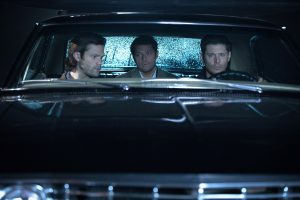 Though this TV show isn't in the superhero genre, it was created by The Boys showrunner Eric Kripke, so is stylistically quite similar to The Boys.
Supernatural focuses on two brothers, Sam and Dean Winchester (Jared Padalecki and Jensen Ackles respectively), who hunt creatures from urban legends. Their adventures eventually draw them into a cosmic battle between heaven and hell.
The show is similar to The Boys through its sense of humor and unique take on well known mythology. Though it doesn't tackle social issues like The Boys and Watchmen does (and has in fact been criticized for its white male dominated cast), Supernatural is still worth a watch for its well-developed lore and long-running storyline.
With the final series coming to an end this year, there's no better time to catch up.
Plus, Jensen Ackles is set to star in season 3 of The Boys as the superhero Soldier Boy – who bears several similarities to Captain America.
Supernatural streams on Netflix, so you can check it out with a 30 day free trial now. The final episodes will air on The CW, which is available to stream in some locations with fuboTV – which you can check out with a 7 day free trial.

Choose from thousands of TV shows and movies. Get stuck in with no fixed contract now.

Tune into the shows everyone is talking about. Sign up now and start saving money.

Watch over 100 live channels with no hidden fees. Claim your free trial offer now.