Welcome to Rewind Reviews, where we take a spoiler-free look at movies old and new that are streaming now – and let you know if they're worth a watch.
Our twelfth film is directors Anna Boden and Ryan Fleck's cosmic Captain Marvel, following the news that Iman Vellani will play Ms. Marvel in the upcoming Disney Plus series.
Captain Marvel was released in 2019, and is the first ever film in the MCU to have a female lead – after 10 years and 20 movies.
It was hailed for its feminism, and scooped over $1 billion at the box office.
Check out our review of this bright and punchy feminist flick below.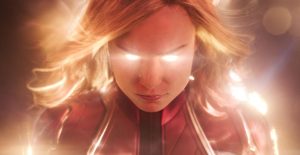 Captain Marvel follows Carol Danvers (Brie Larson), a human woman in the alien Kree's Starforce. She suffers from amnesia, and goes by Vers. During a mission, she's captured by another alien race, the Skrulls. These are shapeshifters who are able to take on the appearance of anyone they encounter, which proves troublesome when Vers eventually makes it to Earth.
On Earth in 1995, she meets a young Nick Fury (a digitally de-aged Samuel L. Jackson) and begins to uncover the life she had before the Starforce as a pilot. Carol quickly learns all is not as it seems, and she must discover who she can trust and who is actually her enemy.
Larson plays Carol as tough and fierce, but with a warmth and kindness that makes her a thoroughly likeable character. The cast for this film is truly star-studded, with Jude Law, Ben Mendelsohn, Annette Bening and Lashana Lynch all making the most of their appearances.
Lynch in particular plays an important role – Maria Rambeau is Carol's closest friend, and is instrumental to helping her deal with her missing memories and confusion over the intergalactic conflict she's embroiled in.
It's refreshing to see Nick Fury, a character usually so shadowy and mysterious, at the start of his career too. With a Disney Plus TV series potentially on the way for this character, Captain Marvel proves that there's more than one direction Marvel could take the lynchpin of the MCU in his own series.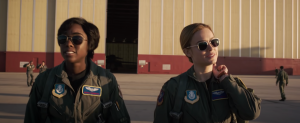 Captain Marvel delivers everything we have come to expect from an MCU movie. Large action sequences, Marvel's trademark quippy humor and a plot that's just one thread in the overall tapestry of the MCU are all present in this film.
The most groundbreaking thing about this movie, however, is of course the female lead. Many have criticized Marvel for prioritizing their white male heroes ahead of the women and people of colour who populate the superhero landscape (the original line-up of the Avengers was all-white, and had a gender balance of 5 men to 1 woman).
Captain Marvel is certainly a step in the right direction for shaking up the formula in a more diverse and equal way – as are the multitude of female or people of color led projects in the pipeline, such as Black Widow or Shang-Chi and the Legend of the Ten Rings. Let's also not forget the iconic and history-making Black Panther, which preceded Captain Marvel by a year.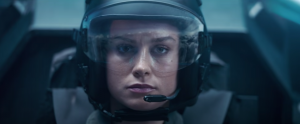 Overall, Captain Marvel is a fun space adventure with strong feminist themes – Carol does not take kindly to being told to smile, nor does she let her male mentor belittle her and knock her confidence – and works just as well on its own as it does as part of a 23-films-and-counting universe.
With bright and colorful visuals, a cast of incredibly likeable characters and a script that doesn't over-indulge in the one-liners, this is definitely a strong entry in the MCU. It had the unenviable task of following on from the universe-altering Avengers: Infinity War and bridging the gap between Infinity War and the hugely anticipated Avengers: Endgame. It did an admirable job at fulfilling that criteria while still retaining its own identity and worth as an individual film.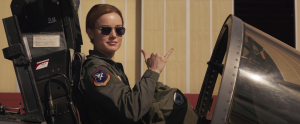 Carol Danvers will return in Captain Marvel 2, which is set for release in 2022. The sequel will be directed by Nia DaCosta, again demonstrating Marvel's commitment to diversifying the MCU both on camera and behind the scenes.
A fun, feisty instalment in the MCU, Captain Marvel is definitely worth a watch – either as part of an MCU marathon, or as a solo adventure.
You can stream it with a Disney Plus subscription now.
Watch if you liked: Thor: Ragnarok (Disney Plus), Wonder Woman (HBO Max), Avengers Assemble (Disney Plus)

 Look out for: the next MCU film Black Widow, now releasing in 2021

 Rating: PG-13

Runtime: 125 mins

Directors: Anna Boden and Ryan Fleck

Studio: Marvel Studios

From classic flicks to Marvel movies and more. Watch at home or on the go with no fixed contract.