Welcome to Rewind Reviews, where we take a spoiler-free look at movies old and new that are streaming now – and let you know if they're worth a watch.
Our fourth film is Matt Bettinelli-Olpin and Tyler Gillett's horror-comedy Ready or Not, which is streaming on HBO Max now. Released in theaters in the summer of 2019, the film was well received by critics, with many reviewers praising its blending of typical horror conventions and humour with social critique. Check out our review of this darkly funny horror flick below.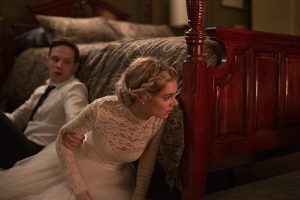 Ready or Not begins with the marriage of Grace (Samara Weaving) to Alex Le Domas (Mark O'Brien). While Grace is nervous that Alex's wealthy family – a dynasty built on the hugely profitable Le Domas Family Games company – may not accept her and her humble origins, we soon discover that she has something far bigger to worry about.
Tradition dictates that, every time someone new is added to the family, everyone must gather and play a game at midnight. Patriarch Tony (Henry Czerny) explains that the Le Domas' wealth sprang from a deal made between his ancestor and a mysterious man known as Le Bail – and as part of that deal, the newcomer must pick a card from Le Bail's puzzle box.
Grace's problems begin when she draws the Hide and Seek card – and the Le Domas' arm themselves to kill her by sunrise.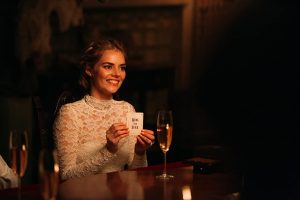 Weaving plays Grace with a sarcastic, tough edge mixed with genuine fear – and, eventually, anger. She remains completely believable and likeable throughout the tumultuous events of the movie, and you'll find yourself rooting for her to escape the twisted turn of events unscathed.
Another standout is Adam Brody as Daniel Le Domas, Alex's brother – and Grace's brother-in-law. Not as enthusiastic about the game as the rest of his family, Daniel is a brooding but sympathetic character who adds a lot of intrigue and unpredictability to the plot.
While Ready or Not is never really genuinely scary, it's still packed with horror tropes (like Grace's gruesome discovery in the barn), and this, combined with its dark sense of humor, makes for an exhilarating ride.
The gore is frequently offset by the characters' often hilariously dismayed reactions to their attempts to kill Grace going awry – with a few notable, and wince-inducing, exceptions – and the film makes use of low lighting and outdoor, night-time sequences to add to the overall atmosphere of suspense.
There are some tense, edge-of-your-seat scenes, as well as laugh-out-loud moments – and neither ever overpowers the other.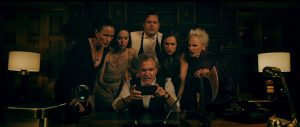 The film isn't just a funny but thrilling adventure, however – it has something to say about wealth, privilege and class, too. Without being moralistic or condescending, Ready or Not – with the help of Guy Busick and R. Christopher Murphy's intelligent screenplay, as well as excellent directing from Bettinelli-Olpin and Gillett – smartly critiques the super-rich, their idiosyncrasies and their disdain for those lower on the social chain than them.
Overall incredibly enjoyable, Ready or Not is a film you can enjoy even if you're not strictly a horror fan – with enough twists and turns to keep you invested from beginning to end.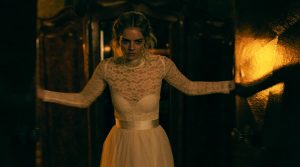 If you missed it at the theater, you can stream Ready or Not on a Hulu plan that includes HBO Max now. Hulu also has a massive library full of thousands of hours of hit content – like this year's Best Picture winner Parasite, and the highly acclaimed Watchmen TV series. It's all available to check out with a 30 day free trial today.
Watch if you liked: Get Out (available to rent/buy on Amazon Prime Video), Knives Out (Amazon Prime Video), The Purge (available to rent/buy on Amazon Prime Video)

Look out for: Samara Weaving in Bill & Ted Face the Music, releasing August 2020 on VOD and in theaters


 Rating: R

 Runtime: 94 mins

 Director: Matt Bettinelli-Olpin and Tyler Gillett

 Distributor: Fox Searchlight Pictures

Tune into the shows everyone is talking about. Sign up now and start saving money.