90 Day Fiance has been a hit for several years now, but some fans will inevitably want to take a trip down memory lane and look at what those from older seasons are up to now.
The third season of 90 Day Fiance aired in 2015, just after classic pairings such as Russ and Paola, Mike and Aziza, Danielle and Mohamed and Brett and Daya had been seen in seasons one and two. But what are the couples up to now, and are they still together? Let's find out.
The couples who featured on 90 Day Fiance season three are as follows:
Mark and Nikki
Loren and Alexei
Kyle and Noon
Melanie and Devar
Fernando and Carolina
Josh and Aleksandra
Mark and Nikki
Many viewers were quick to judge this couple, as Nikki – from the Philippines – was almost 40 years younger than him when they appeared on the show. At just 19, Nikki went over to the US, but there weren't many culture clashes as Mark's previous wife had also been from the area.
When Mark was on the show, he said he was looking for a mother for his kids, and made Nikki sign a prenup where she would be entitled to nothing if they were to divorce. Some believed he was a bad character on the show for telling off Nikki and being patronising to her, but he has insisted it's TLC producers who made him look this way.
These days, it doesn't look like either of the pair are too active on social media. Nikki does have an Instagram active, but it hasn't been posted on since 2013. Therefore, the couple are either still married and living in the US with Nikki as a stepmom – or she was bought a one way ticket back to the Philippines. However, if the pair divorced further down the line, it's possible she made herself a new life in the US away from the public eye.
Loren and Alexei
Back in the days of 90 Day Fiance season three, Loren had quit her job and moved back in with her parents in Florida so that her Israeli boyfriend could come over from the US. The pair met during a Birthright trip, and although there were various ups and downs over the course of the season, the pair are still together to this day.
The pair had a difficult time navigating Loren's Tourettes syndrome, and fans of the couple have seen episodes where Loren spoke out about the condition following social media bullying. She also told Alexei's parents, who were thankfully supportive in their response.
Recent times have seen the pair welcome a son called Shai, and it looks like the pair are still going strong. Loren has a strong Instagram presence with 1 million followers and she regularly posts photos of her family. Meanwhile, Alexei isn't too far behind with around 650k followers.
Kyle and Noon
Noon went to the US from Thailand on a K-1 visa in order to start a new life with her partner Kyle in New Orleans. The couple had a number of emotional moments on the show, such as Noon encouraging Kyle to fix his relationship with his parents.
The pair were married before their 90 days was up, and they continued showcasing their story on 90 Day Fiance: Happily Ever After? Here, fans discovered that the pair had to relocate temporarily to Thailand as Noon's father was ill. However, they were able to return to the US after a few months.
Now the couple are still married and active on Instagram. Noon has 56k followers and an account for her cats, as well as a YouTube channel. Meanwhile, Kyle has an Instagram account with 29k followers, but it is currently set to private.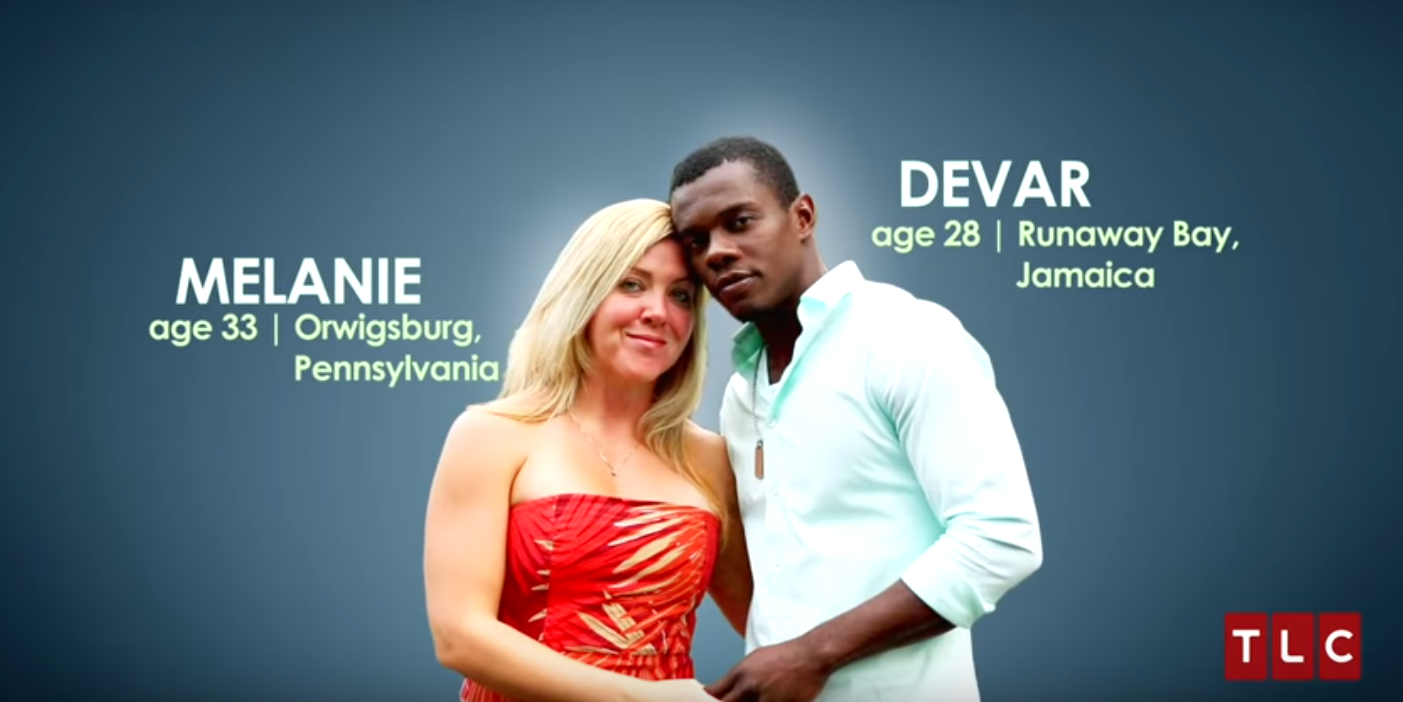 Melanie and Devar
Devar and Melanie appeared on the third season of 90 Day Fiance and had plenty of people criticising them. After meeting while Melanie was on holiday in Jamaica, Devar came over to the US on the K-1 visa and was subject to belief from Melanie's family that he was using her for a green card.
One opponent in particular was Melanie's sister, who made it clear she didn't like Devar. Furthermore, Melanie had a problem with Devar sending money to his family back in Jamaica – particularly his sister, who wasn't working, and other family members who appeared to be quite well off.
These days, the couple are active on Instagram and have a daughter, Avah, together. Devar is regularly posting photos of her on his account and refers to her as 'the boss'. He refers to himself in his bio as a commercial diver and involved in underwater construction. Meanwhile, Melanie has a private account on Instagram.
Fernando and Carolina
Carolina moved to Florida from Colombia, which is where the pair met. Dramatically, the pair were both on dates with other people when they first saw each other. However, after they had spent time together he proposed before flying back to Colombia.
At first, Carolina struggled to adjust to Fernando's family life, and was worried he was cheating on her after finding women's clothing in his closet. However, the pair – who are 17 years apart in age – managed to get married before the K-1 visa was up.
These days, the pair are still married and reside in Florida. Fernando has some photos of Carolina on his Instagram page, and generally posts about his everyday life. Meanwhile, Carolina does not appear to have an Instagram account at the time of writing.
Josh and Aleksandra
When Josh was in Prague on a Mormon mission, he encountered a Russian student called Aleksandra and they began developing a relationship. Aleksandra wanted to overturn her wild lifestyle and Josh introduced her to Mormonism.
After a year together, Josh proposed to Aleksandra and they began their lives together in the US. To begin with, the pair had some trouble with agreeing on issues such as where to live and planning for a family. However, they have remained married since 2015.
These days, the pair are married and have two children together. Josh managed to go to medical school in Australia, which meant the family relocated to Brisbane for a while. They have now gone back to the USA, and Aleksandra is active on Instagram.
Related Articles

Watch 90 Day Fiance season 3 on Hulu now.