The new instalment in Amazon Prime Video original TV show The Boys hit the streamer yesterday (September 25th).
Titled 'The Bloody Doors Come Off', this episode had plenty of action, and saw the mystery of the supe terrorists unravel further. We also uncovered some important secrets about the past.
The major action in this episode came from Starlight bringing some intel to the Boys about the supe terrorists. That set them off on a mission to investigate, which brought them into close quarters with Lamplighter – the supe who killed Mallory's grandkids.
Except Lamplighter actually ended up helping the Boys, and it was revealed he'd never intended to hurt Mallory's grandkids at all. In fact, he feels incredibly guilty over it, and was actually working for them as an informant at the time.
Chaos comes in the form of a supe getting loose, who in turn frees the others. The escaped supe wreaks bloody havoc, and another supe ends up hurting Hughie badly – to Billy and Starlight's horror.
Stormfront arrives and sets her lightning powers on the escaped patients, killing a lot of them. This is when Lamplighter covers for the Boys, and stops Stormfront discovering their presence.
We got a reminder that Kimiko holds a grudge against Stormfront after Stormfront murdered Kimiko's brother, but we'll apparently have to wait longer for their rematch.
Meanwhile, Homelander and Stormfront continue their relationship with a gory scene in an alleyway that sees them brutally kill a robber, then sleep together right next to his body.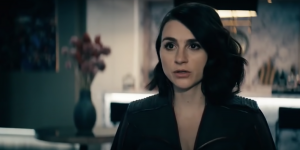 However, Homelander's ongoing rage at being lied to causes problems when Stormfront misses a pre-arranged 'date' with him. This leads to Stormfront revealing her past – she was born in 1919, and was married to Vought back in Germany during the Second World War. It turns out she's a Nazi who had high-profile connections in the Third Reich, and Vought turned her into the world's first superhero.
We see Queen Maeve's burgeoning takedown of Homelander continue when she meets up with the Deep. He was unable to recover the black box for the downed plane in season 1 that Homelander and Maeve abandoned, but he did find a camera containing footage of the disaster that directly implicates Homelander.
Trouble seems to be forming for Maeve, though. She plans on using the footage to blackmail Homelander to leave her and her girlfriend Elena alone, but Elena watched the footage herself and seems horrified by what she saw – and Maeve's justifications don't seem to help much.
The Deep also got A-Train to have dinner with the leader of the Church of the Collective. As A-Train is being forced out of the Seven, just like the Deep was, it's possible A-Train might eventually join Maeve's crusade against Homelander.
Then, the episode ended with the cliff hanger of the escaped supe making her way from the wreckage of the psychiatric hospital. She survived, and who knows what kind of chaos she could cause now.
We'll have to wait until next Friday to find out what happens next, but for now we've got plenty to think about.
You can stream The Boys with a 30 day free trial from Amazon Prime Video now.
Related Articles

Choose from thousands of TV shows and movies. Get stuck in with no fixed contract now.