There are plenty of options out there these days for live TV subscription plans, but how do you know which one is best for your needs?
Fortunately, we have compared three of the best options out there – Sling TV, fuboTV and Hulu with Live TV.
Sling TV vs fuboTV
Sling offers customers freedom to choose between Sling Blue and Sling Orange. If you want a base package, go for Orange – Blue offers a little more.
The package with fuboTV is great for those wanting to get an excellent range of channels, including some sports networks Sling doesn't have.
Sling has more channels for expats or those who enjoy shows from various countries. Fubo is great for sports fans.
FuboTV vs Hulu with Live TV
FuboTV has a huge list of add-ons which will customise a user's individual package. The range is more expensive but good for the whole family.
Hulu has options for both ad-supported and ad-free subscriptions. They also provide their on-demand content in addition to the live TV package.
Both packages allow for streaming on two devices at once, and both have add-ons to watch on further devices simultaneously.
Sling TV vs Hulu with Live TV
Hulu has a large and generous offering, with the four major networks (ABC, CBS, Fox and NBC) plus many major cable channels, news and sports.
Sling focuses more on customising lineups according to personal preference, whether that's news, sports, entertainment or value for money.
Sling has many add-on options, while Hulu has a bundle available with Disney+ and ESPN+ to provide monthly savings.
Related Articles

Watch your favourite shows. Customise your channel lineup. Claim your free trial offer now.

Watch over 100 live channels with no hidden fees. Claim your free trial offer now.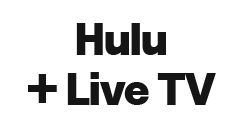 Tune into the shows everyone is talking about. Sign up now and start saving money.